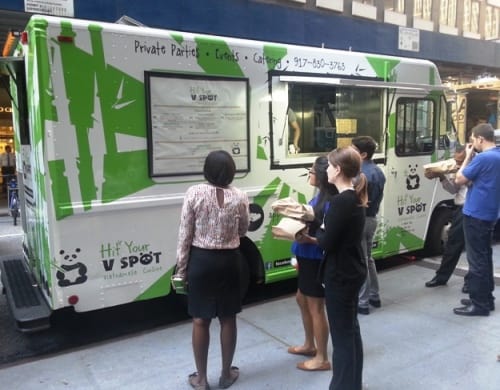 Another new food truck has come out recently called the V Spot. Their tagline is "Hit Your V Spot – Vietnamese Cuisine". While there are currently a food truck and a food cart serving Vietnamese sandwiches (banh mi), the V Spot serves a few Vietnamese dishes that are not sandwiches.
The guy taking orders said their most popular dish was lemongrass curry chicken, but we're not big on lemongrass. After a quick perusal of the menu, we went for #1, the V Spot Special for $9. If they think it's good enough to be their special, that's what we want to try first!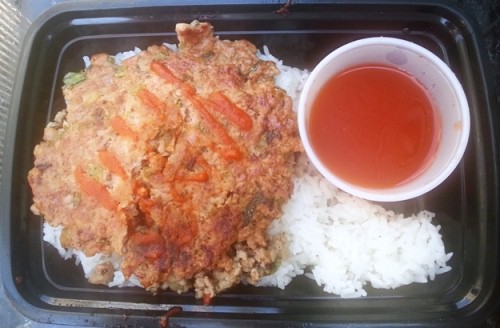 The V Spot Special is a Vietnamese pork patty, and it comes with a choice of being served over vermicelli noodles or V Spot rice. We wanted the noodles, but they were out, so we had to get the V Spot rice.
The menu also says "Want It Spicy? Ask And We'll Add Sriracha!" Opening the lunch container, they added sriracha without us asking for it. Luckily, we like spicy food, but we usually like to try a new vendor without any additions, such as hot sauce.
The pork patty was a decent size. There were scallions, other greens, onions and mushrooms mixed in with the pork before the patty was grilled. The patty itself was not spicy, but the sriracha sauce added a little kick.
Once we started eating the pork patty, we could see there was a nice amount of mixed ground pork and greens on top of the white rice. This reminded us of the pork toppings Bian Dang uses on their dishes, but Bian Dang's ground pork and greens are mixed with gravy that adds even more flavor.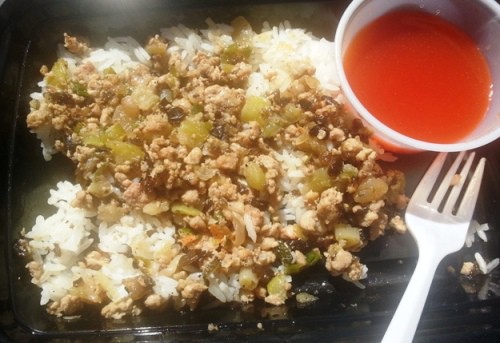 Next to the pork patty was a small container of dipping sauce. We tried it and liked it, but found the flavors difficult to describe. There was a slight vinegary flavor, and possibly some fish sauce, but it wasn't particularly fishy, sweet or spicy.
We ran into the V Spot truck on 47th St between Park and Lexington, where you can find anywhere from five to nine food trucks every weekday for lunch. To check their schedule, you can find V Spot's Twitter here and Facebook here.