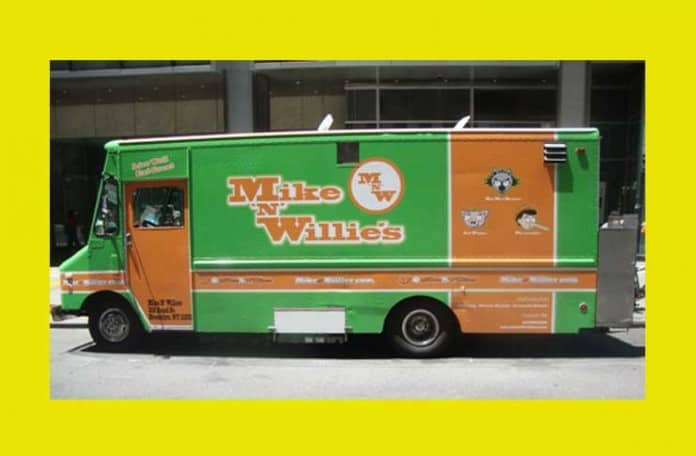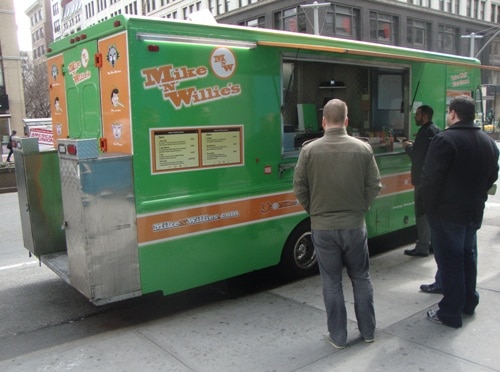 One of the newer food trucks on the street is Mike 'n' Willies, who started serving towards the end of January.  They serve mainly tacos and sliders, and both the truck and sliders are take-offs on fairy tale themes.  We had a NYSF First Look the first few days they were open, and went back recently for a 2nd look.
The menu isn't large, but they are one of the few food trucks where you can get a fish taco, probably my favorite type of taco.  You can also eat veggie here, if that's important to you.  You probably only need two dishes for lunch, but I got three.  Hey, someone has to do the dirty work!
I got a fish taco, a brisket slider, and wanted to try the lime chicken taco, but it was sold out.  I got a short rib taco for the third dish after Mike told me they added bbq sauce to it after reading my first review, where I said it was kind of bland.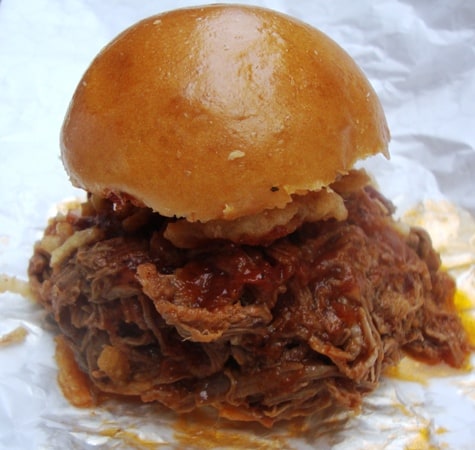 I started with the Big, Bad Brisket slider for $4.  It wasn't wide, but was piled high, with meat, bbq sauce and fried onions spilling out the sides.  It was a little messy to pick up, but quite tasty once I did.  There were small pieces of crispy breaded onions, and the bbq sauce had a smoky little kick.  They told me it was a homemade chipotle bbq sauce.  The bun did get a little soggy on the bottom from the meat juices and sauce, but held together until the end.  Glad I ate it right away.
The fish taco was $4.50 and had a large piece of beer battered cod, with a mild, crunchy slaw on top and a slightly spicy mayo-type sauce on the bottom.  The breading on the fish was puffed up and crunchy, and there was a nice piece of fish inside the batter.  I like that they used 2 tortillas.  It really helps keep everything from falling apart.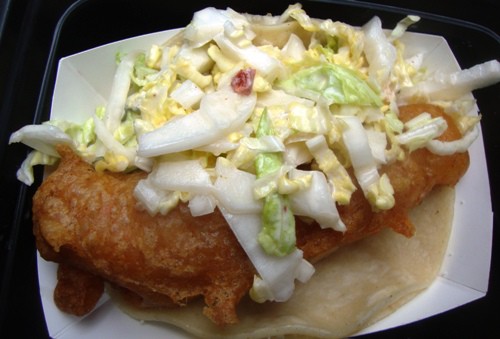 Last was the short rib taco, which cost $3.50, and was also served on two tortillas.  Good thing, because there was so much meat in the taco, it would have been a disaster with only one tortilla.  There was crumbled cojita cheese on top and a little shredded lettuce, but what brought it all together was a sweet bbq sauce.  It was utterly delicious, and probably my favorite of the three dishes.  The bbq sauce was a little sweet, and really added something extra to the dish.
As I said, two dishes are probably enough for lunch, but they also have a couple of side dishes and sometimes soup.  It makes mixing and matching easy.  If you're vegetarian, there's the Pea-Nocchio (a fried chickpea slider), guacamole or salsa and chips, and they often have butternut squash soup.
Mike 'n' Willies does make the rounds of different areas, so check their twitter here or our Mobile Munchies twitter feed.   The food is not inexpensive for tacos and sliders, but it is flavorful and filling.  Next time, I want to try a Lil' Piggie (bbq pulled pork) and either the Lime Chicken Taco or the Pea-Nocchio.