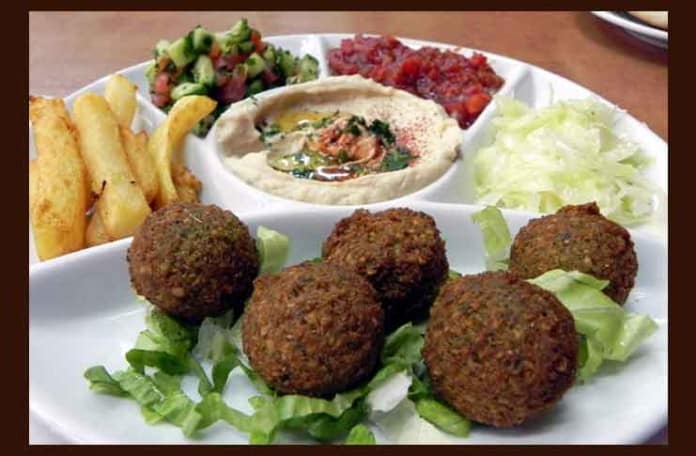 I had to be near Penn Station around lunchtime, and decided to take a walk over to the Quick Stop Kosher truck.  I ran across this truck the first week they were out last July, and now they usually park on 9th Ave between 33rd & 34th St, in front of the B&H Photo store.
Last year I had their cheese blintzes, which were pretty good.  Today's Lunch is a falafel sandwich ($5.50) from the Quick Stop Kosher truck.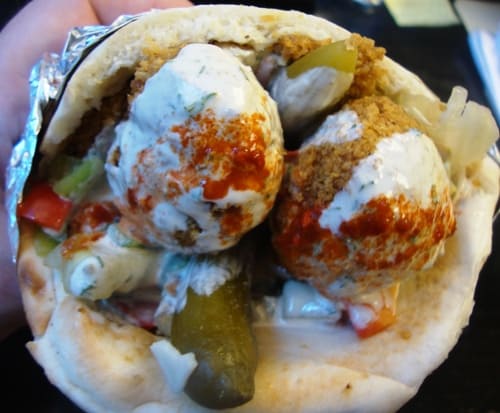 When I got to the truck, a sign said the falafel sold at Quick Stop Kosher was from Moshe's.  I had Moshe's falafel sandwich about a year ago. and it was pretty good.  Would this be as good, even better or worse than Moshe's?
One difference from Moshe's was obvious right away when I got back to the office.   The tahini sauce and hot sauce were served on the side.  This offered one nice advantage – the sandwich was much neater to eat.  You could put on as much (or little) of each sauce as you like, and refresh the sauces as you make your way through the sandwich.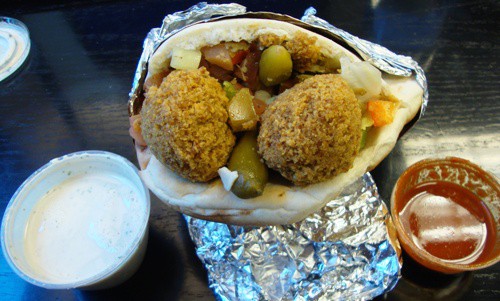 Another difference from Moshe's was the sheer amount of stuff in the sandwich.  Both sandwiches had lettuce, tomato and pickles (yum!), but the falafel sandwich from Quick Stop also had cucumber, red and white onion, red pepper, green olives and even a little eggplant.  There was a veritable Garden of Eden in the pita bread.
The tahini sauce had a real nice sesame flavor with some herbs and a tiny kick, but the hot sauce was a bit too tomatoey, and wasn't really that spicy.
The falafel itself was crunchy on the outside and soft inside.  You could tell it was from Moshe's because  the falafel balls were a combination of chickpeas and cornmeal, which is different from most other falafel vendors that use only chickpeas.  Personally, I like the mix of cornmeal and chickpeas, but the falafel was not spiced with herbs as much as I would have liked.
Overall, this was a very tasty falafel sandwich.  The falafel wasn't as herby or spiced as Taim Mobile, but the sandwich was jam-packed with veggies, and there were 2 pickles included.
The other thing I liked was the presence of falafel at the bottom of the sandwich.  Too many falafel sandwiches have no falafel at the bottom.  Not only did this sandwich have falafel at the bottom, but with the sauce served on the side, I was able put some tahini on the last few bites of falafel.  Now that's a good sandwich from top to bottom!