After a quiet day Wed, where we were able to wait on line at the Cinnamon Snail for 40 minutes, it was back to the crazy yesterday. That meant a quick trip around the corner to 56th & Broadway for lunch.
Luckily, Wing'n It was there, and we still haven't tried the Spicy Peanut wings that Robert M raved about in the comments of our First Lo0k at the truck.
To round things out, we also got half a dozen Miso Glaze'n wings.
All wings are $6 for half a dozen and $11.50 for a dozen. This time, we ordered baked Spicy Peanut Wings, having had fried wings for most of the past visits.
We started with the Miso Glaze'n, just in case the Spicy Peanut Wings were super hot. This way we started fresh.
The Miso Glaze'n had that instantly recognizable miso aroma, just like you get from miso soup.
The miso glaze had a stronger, more concentrated flavor than in miso soup, and there seemed to be some sesame oil in the sauce too.
These wings were mild, so we would recommend them to folks who like wings, but don't want anything too spicy or too sweet.
Spicy Peanut Wings here we come…
Good call on eating the Miso Glaze'n wings first. The Spicy Peanut wings put an instantaneous tingle on our tongue.
The sauce wasn't close to the hottest thing we've eaten, but it had a very decent amount of heat, with a peanut chaser. You could see a few chili flakes and seeds in the sauce.
The peanut flavor was certainly there, but it was not overpowering. The chocolate peanut cheese donut we had yesterday at the Cinnamon Snail had a much stronger peanut flavor.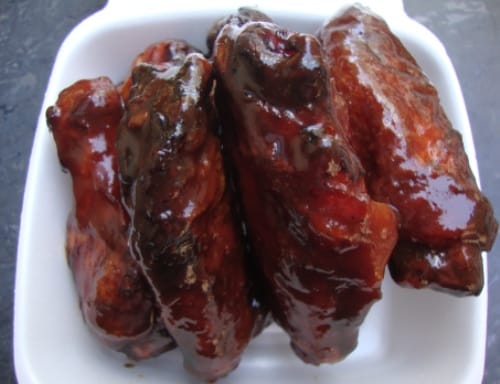 We can see why Robert M was raving about the Spicy Peanut Wings. They were definitely one of the better flavors at Wing'n It.
One last thought – the baked wings had barely any oil or grease. While we couldn't call this lunch healthy, the fried wings had a lot more oil than the baked wings.
You can find Wing'n It on twitter here or on our Mobile Munchies twitter feed.
Here's the wings portion of the menu. There are a few well-priced side dishes as well.