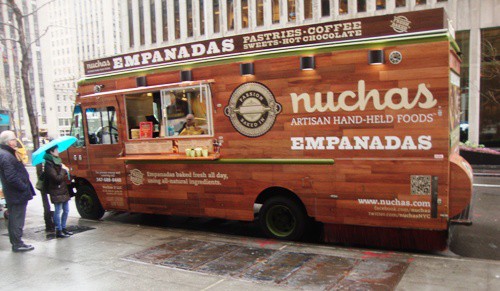 New menu items…we're there!
On Friday Nuchas tweeted: "Come by for todays Limited Edition Thai Special #Empanadas. Basil Beef & Lemongrass Chicken. YUM."
How could we pass that up? Answer: we couldn't, rain and all.
The Thai empanadas were $4 each. Since 2 empanadas isn't usually enough for us for lunch, we also got a spicy cheese empanada for $3.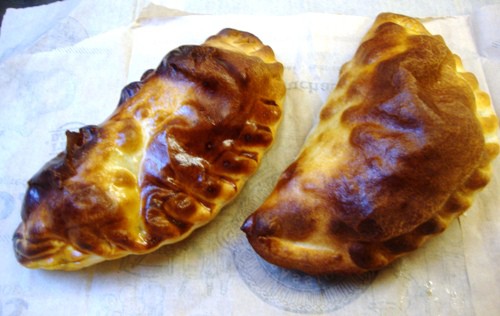 A sign in the window said this was a Limited Edition collaboration with Chef Andy Yang of Rhong Tiam.
There was no difference in the exterior of the two Thai empanadas, but the insides couldn't be more different.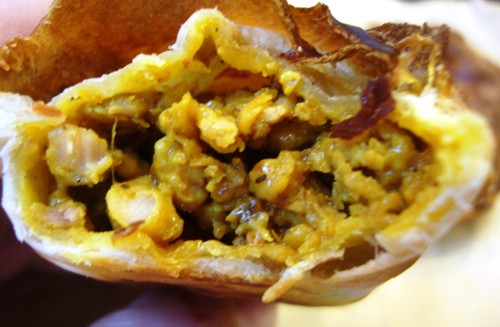 The lemongrass chicken empanada was quite spicy, with chilies and chili oil giving us a nice little burn.
The chicken was seasoned with turmeric, which added the bright yellow color, as well as lemongrass, soy sauce, sugar and salt. This was a good empanada, but lemongrass isn't among our favorite spices.
The basil beef empanada was right up our alley. It wasn't as spicy as the lemongrass chicken, but this empanada filling was juicy, and there was a sweetness that went along with the taste of green bell peppers, basil and onions.
It turns out the sweetness was from rock candy, which was used with soy sauce, beef stock and balsamic in the sauce. This was definitely our favorite of the three empanadas tried on Friday.
We don't want to give short shrift to the spicy cheese empanada though, especially the parmesan crust. That crust was delicious.
Inside was no slouch either. There were several cheeses used to make the gooey filling, and it was spicy as advertised. There were pieces of hot red pepper and other spices, plus "caramelized onions".
We do need to call b.s. on the caramelized onions though. Everybody and their brother is using "caramelized onions" in their dishes, and they rarely are.
Note to chefs: If the onions aren't brown, they aren't caramelized. Call them grilled onions.
You can find Nuchas on twitter here or on our Mobile Munchies twitter feed.