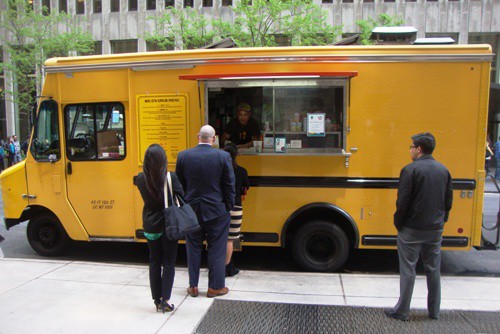 We recently heard about a "secret" item on the menu at Big D's Grub Truck. It's been a while since we've visited Dennis (Big D), and now that we're back from LA, it seemed as good a time as any.
Walking up to the truck, the menu had tacos, grinders and rice bowls. We told Dennis that we had heard about a "secret" menu item and asked what it was, how much it cost, and if it was available.
The answers were a burrito for$6, and yes, it was available. We opted for the spicy chicken and waited for our lunch.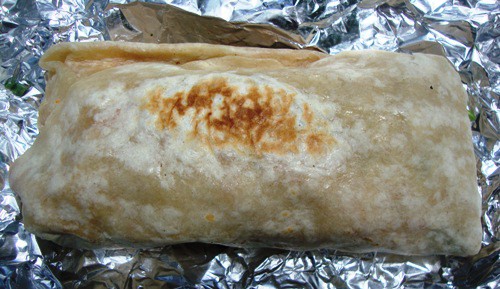 When our order was ready (5 minutes tops), Dennis handed us a warm burrito in a paper bag that was wrapped in foil.
It was a bit cool at lunch yesterday, so taking out the burrito was a warm and cushy feeling.
Taking a bite was even more of the warm and cushy feeling. Spicy shredded chicken, rice, carrots, cucumbers, fresh cilantro, and a spicy mayo-type sauce.
As we said, it's been a while since we've been to Big D's, and this was comfort food at it's best. Just about every bite had tender chicken, crispy veggies, warm rice and a spicy sauce. Hey, we need to come here more often!
And Dennis gave us a good reason to come here again. Starting today (Tuesday), there will be a Daily Special of curried beef tacos. The special will only run for the rest of this week, and it comes with a creamy yogurt sauce. Nom nom!
You can find Big D's Grub Truck on twitter here or on our Mobile Munchies Twitter feed. Dennis is a regular tweeter, so that's a good way to find out about his specials.