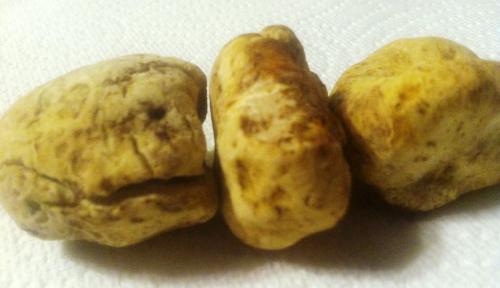 One of the most overused words in the food lexicon is "gourmet", but in this case, it actually fits.
The Mac Truck has acquired white truffles, which will be available at the truck today. We've had truffle oil, but this is the first time we've heard of white truffles being served from a NYC truck.
Click through for more info, including where the truck will be parked, and how much it will cost.
For a quick lesson, the white truffle (tuber magnatum) has an aroma that is both unique and unmistakable, allowing trained pigs and dogs to find it underground where the mushroom is grown, mainly in Italy. The white truffle is found and harvested during the fall and winter seasons, between September and December.
Dom from the Mac Truck told us last night he just bought 3 white truffles, courtesy of Jonathan Benno, formerly of per se and currently the chef at Lincoln Ristorante in Lincoln Center.
The white truffles will be available for a $10 supplement, which is a great deal for anyone looking to try white truffle who hasn't had an opportunity to try them before.
According to Wikipedia, the highest price paid for a single white truffle was in December 2007, when Macau casino owner Stanley Ho paid $330,000 for a specimen weighing 3.3 lbs. In December 2009, they were being sold for over $14,000 per kilo (2.2 pounds).
The Mac Truck will be posting up on 47th St between Park and Madison Ave. Dom recommends grated Parmesan and toasted bread crumbs as add-ons.
Don't you just love the incongruity of ordering white truffles from a food truck designed to look like an eighteen-wheeler.
If you try white truffles from the Mac Truck, please let us know what you think.