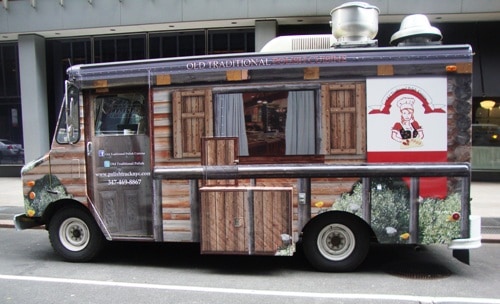 Ever heard of Potato & Cheese Pierogi?  Every culture has them – dough stuffed with meat, cheese or veggies. You can call them dumplings, ravioli, empanadas, gyoza or a host of other names, but it's still dough filled with yumminess after it's fried, steamed, baked or boiled.
There's a fairly new food truck in town called Old Traditional Polish Cuisine that serves pierogi. During our First Look, we tried their kielbasa and potato & cheese pierogies, but they didn't have any meat pierogies available that day.
You can get 7 pierogies for $8 or 9 for $10. This time we went for the pierogi combo, which was the large with a mix of meat and Potato & Cheese Pierogis for $10.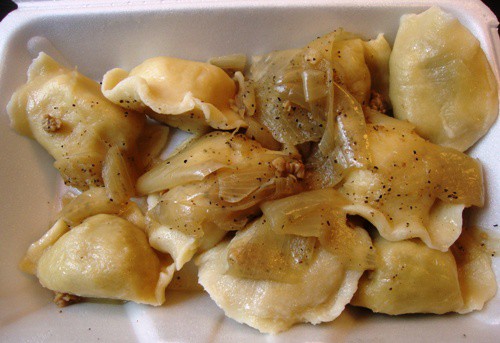 The Potato & Cheese Pierogi were topped with freshly grilled onions and a healthy dose of black pepper.
Cutting one open, you can see the Potato & Cheese Pierogi were stuffed to the brim. The smooth potatoes had small pieces of cheese studded throughout the potato.
The texture of the cheese was along the lines of cottage cheese, and it was a little tart. The black pepper was apparent too after just a few bites.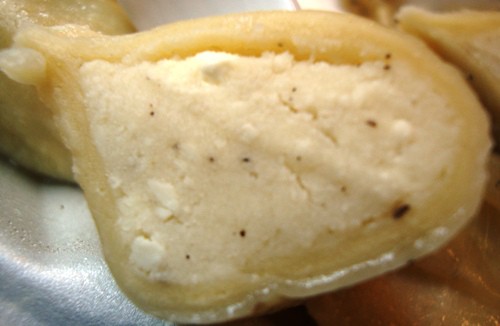 The dough on the Pierogies was good. It wasn't too thick or chewy, but held everything together well.
The meat Pierogies were also stuffed to the max with finely ground meat. It didn't seem to be beef. Our guess would be ground pork. There was a decent amount of black pepper in the meat filling too.
By the end of the meal, we were as stuffed as the Pierogies, and happy as a clam. (What a silly saying. Are clams really happy…or sad?)
While this meal will never end up on a "Top 10 Healthy Lunches" list, it was quite enjoyable. Our mouth is still tasting that meat filling and black pepper as we write this.
Old Traditional Polish Cuisine can be found on twitter here and on our Mobile Munchies twitter feed. They don't have a website, but facebook is here.