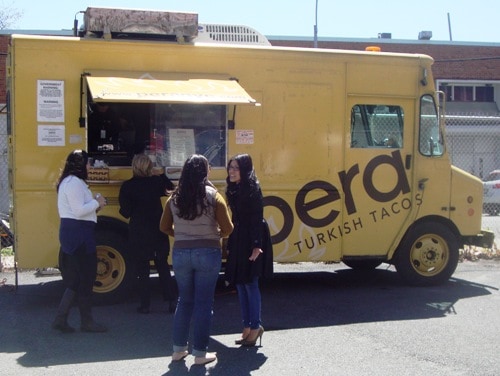 Pera Turkish Tacos made some news last summer when they were at the old Tavern on the Green space on West 67th St with a few other food trucks.  Pera was the first food truck in NYC to be granted a liquor license!
Unfortunately, that space was closed for food trucks at the end of last summer, although there's a beautiful new Central Park Visitors Center in the location.  While the Pera restaurant still exists near Grand Central, the truck kind of fell off the map.
That's why we were excited to see the Pera Turkish Tacos truck reappear when the LIC Food Truck Lot opened last week.  The only question was if the menu or quality had changed.
The menu has changed a bit since last summer. Taco prices have increased from $3.50 to $3.75, but you can get a combo of 2 tacos and a drink for $8.  Gone are the shrimp and lamb tacos, and in their place are eggplant and beef brisket tacos.
They still have the lavender & honey roast chicken tacos, which we enjoyed last year, but the zucchini pancake wrapper is not available anymore.  There are plenty of side dishes, such as Mediterranean fries and feta & watermelon salad.
Pera Turkish Tacos are served on lavash bread.  The best way to describe lavash bread is a cross between the taste of pita bread and the thinness of a flour tortilla.  It tasted pretty good and held up well to the fillings, both in taste and by not falling apart.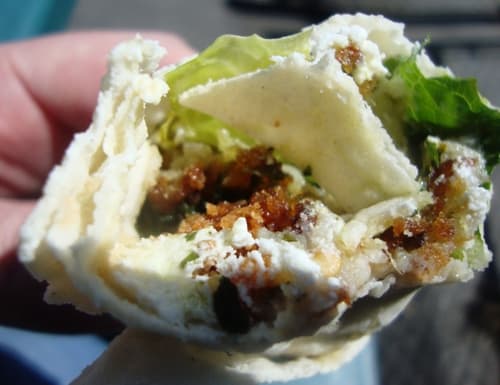 I started with the eggplant taco, and my first bite was crunchy, crispy fried eggplant and feta cheese.  On my second bite, there was the creamy, lemony taste of hummus. Yum!  There was also lettuce and squash in the taco, but the crunchy eggplant, feta and hummus were the main flavors.
Since I've had the chicken taco before, I went for the beef brisket taco, which was braised with tomato.  The beef was fall-apart tender, with a light tomato taste. There was lettuce in this taco too.
The beef brisket taco was good, but the eggplant & feta taco was very good.  I just wish there was a bit more filling in the tacos.  They were tasty, but not especially satiating.  I would also like to see the zucchini dill pancakes make a comeback as a taco wrapper like they had last year.
It's good to have the Pera Turkish Taco truck back at the LIC Food Truck Lot twice a week.  Their menu is clearly different from any other food truck in NYC, and I thoroughly enjoyed lunch both times I've eaten there.