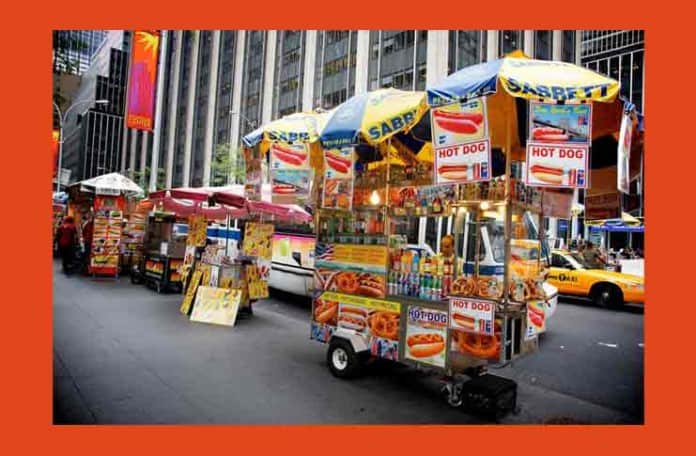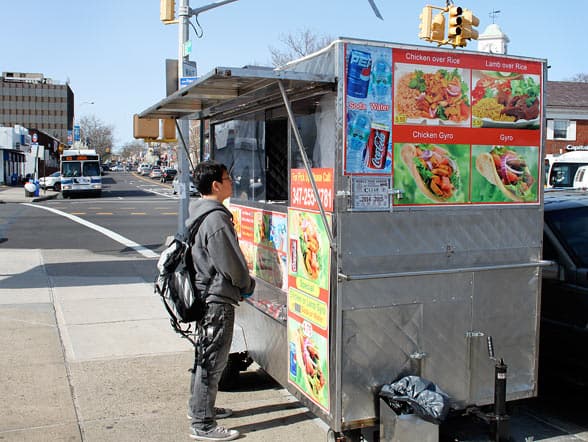 From the  (Queens) Times Ledger:  City Councilman Mark Weprin (D-Oakland Gardens) has zoned in on what he called a recent phenomenon, urging the Council's Consumer Affairs Committee to see what's cooking on the streets of eastern Queens.
The appearance of food carts along Bell Boulevard, Hillside and Springfield avenues as well as Union Turnpike has left Weprin asking the city to investigate and potentially regulate concerns, including health and safety issues, unfair competition (really?) and unsightliness.
The councilman said the city would hold hearings later this spring to discuss these issues with local vendors and the community to resolve how to regulate food vendors.
"There are a lot of questions out there," Weprin said. "We should have a hearing because these things have become much more prevalent."
The plan to bring the discussion into the Council was surprising news to John Amanatidis, whose mobile grilled food cart has resided near the intersection of Northern and Bell boulevards for close to 15 years, the vendor said.
"We're not bothering anyone," Amanatidis said. "We're finished by 7 p.m., well before dinner, so we don't interfere."
A major concern in the debate, Weprin said, surrounded the topic of unfair competition posed by vendors parking their carts in new spots. Weprin said local merchants have expressed concern that these mobile food units have left them at a disadvantage.
But according to Sean Basinski, a spokesman for the Urban Justice Center's Street Vendor Project, the accusation is not grounded in any facts or evidence.
Basinski said there was plenty of research to show that food vendors actually helped local brick-and-mortars.
"It's perhaps an understandable concern, but a naive impression which simply is not born out by the research," Basinski said. "Whoever is complaining is simply wrong."
According to a report provided by the Street Vendor Project, goods sold on the sidewalk were typically different from the higher-end items sold in stores, complementing the array of products. The report pointed to a "synergistic relationship" between the vendors and their local counterparts, adding that street vendors can draw the foot traffic necessary to boost s in surrounding shops.
Possible solutions, Weprin said, included limiting where vendors can do business or imposing regulations on how far away from other food stores they might operate.
"There are places where they serve a great purpose, Weprin said. "There are school campuses and parts of the city where people live and die with those food carts. But parking in front of a store with the same product could be unfair."
A worker who only wished to be identified as John mans the halal food cart near the intersection of Northern and Bell boulevards and said he went where the business was.
"If people come here, then I'm here. I can go anywhere by law," he said. "I'm legal. What I'm doing is legal. Business is business. Welcome to America."
Other concerns that Weprin said residents have brought to the councilman's attention are the issues of unhealthy conditions and unsightliness, affecting the image of Bayside's community and quality of life.
It is something Basinski said might stem from an inherent fear of vendors. He said all food vendors were subject to inspection by the city Health Department and were no different than local shops in judging cleanliness on a case-by-case basis.
"I don't think it holds water to say on a generalized basis that residents are concerned about health issues," Basinski said. "To have these concerns in a vacuum sounds like simple anti-vendor warfare." [(Queens) Times Ledger]