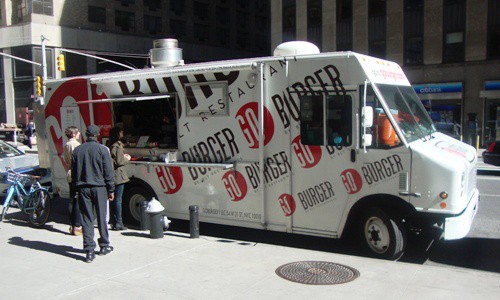 Last time we went to the Go Burger truck, we were a little surprised to see falafel on the menu. We were thinking about fried falafel balls stuffed into pita bread, which seemed like a weird thing for Go Burger to serve. What we didn't realize at first glance was they are now serving a falafel BURGER. Now the world makes sense again!
The falafel burger is one of the least expensive main items at Go Burger, for $6. With no meat included, we would be shocked if it wasn't.
Since we had a few extra bucks in our pocket by ordering the falafel burger, we also ordered a shake shot for $1.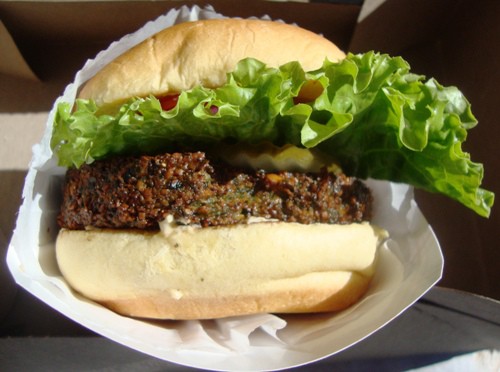 Go Burger must know what they're doing with the new menu item, because 3 people behind us ordered falafel burgers while we were waiting for lunch…and it wasn't a long wait either. We don't know why vegetarians would hit a burger truck for lunch, but Go Burger is certainly capitalizing on it.
The falafel burger looks very similar to the regular Go Burgers, with Boston lettuce, tomato, pickles and red onions in the sandwich.
Where things differ is the sauce. The falafel burger has tzaziki sauce and hummus instead of ketchup, mustard or mayo. At least that's what the menu said.
The tzaziki sauce was readily apparent, but we didn't taste any hummus in the sandwich. The yogurt flavor of the tzaziki sauce was a good choice to go with the falafel burger, and hummus would have been welcome too. The tzaziki was not as good as Uncle Gussy's, but few are.
The falafel burger itself was decent, if a little dry. It was about the size of a hockey puck, but a little thinner.
The outside was nice and crispy from being deep fried. The inside was soft and had a nice, herby flavor from cilantro and other herbs and spices.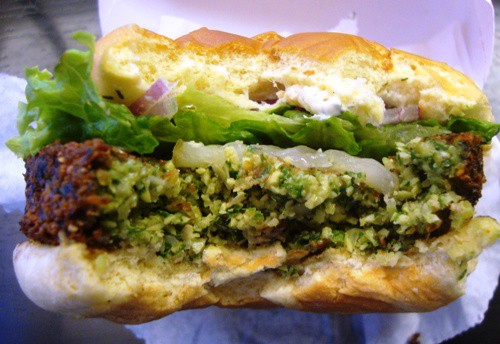 There was a mix of deep green and yellow, making us wonder if the falafel was made with chickpeas and some cornmeal. We know some falafel vendors use cornmeal in their mixture, and we're not sure if that was the case here. Whether they did or not, the falafel burger still tasted good.
Go Burger has a choice of chocolate or vanilla shakes, which cost $4 each. The shakes are large, but too much to have with a burger and fries for lunch. The idea of a shake shot is a good one.
We'er not sure exactly how big a shake shot is, but it's much larger than a shot of alcohol. The shake shot cup is about the same height as the burger bun is wide (maybe 5 inches). Our guess would be 4 ounces of shake for $1.
We got 4 or 5 good, long sips of a thick, chocolaty shake. In our opinion, the shake shot is one of the better deals at Go Burger.
The Go Burger truck makes the rounds of different neighborhoods, and can be found on twitter here or on our Mobile Munchies twitter feed.
If you're a vegetarian, it's easy to make a meal from a falafel burger, fries, sweet potato fries, onion rings, and/or a shake.
If you're not a vegetarian, it's even easier.