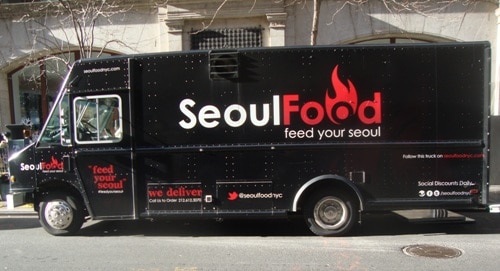 One of the newer food trucks around is Seoul Food, another Korean vendor to go alongside Korilla BBQ, Big D's Grub Truck, Kimchi Taco Truck, and Bob & Jo – and that doesn't even count the Korean carts like Bapcha and Gobuki.  Some of these vendors fuse Korean and Mexican cuisine, and some have more traditional Korean food.
Seoul Food serves both.  They have fusion cuisine like Korean tacos, burritos and sliders – but they also have more traditional Korean food like bibimbap and rice platters – and they even make a Korean version of the Vietnamese banh mi sandwich, which we had on our First Look back in mid-December on their 2nd day out.
This time we decided to try a Kalbi Short Rib Burrito for $8.50.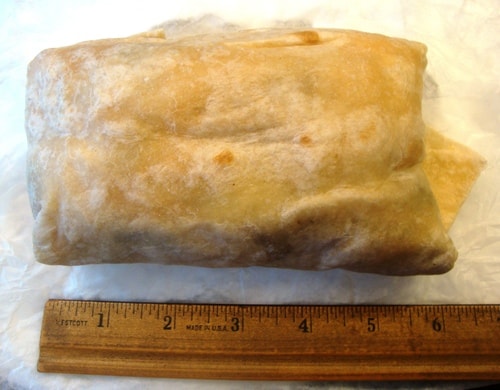 Some places pride themselves on the size of their burritos, but this one was only about 6.5 inches long.   When ordering you have a choice of brown or white rice, a flour or whole wheat tortilla, and spicy mayo or low-fat sour cream.
It was pretty thick and full though.  Inside the wrap there was plenty of marinated short rib, romaine lettuce, cheddar cheese, kimchi aioli, onions, cilantro, the rice and spicy mayo.
The first bite was spicy and sweet, with the flavor of the marinated beef and kimchi aioli front and center.  The kalbi really caught my attention, as it had more sweetness from the mirin-type marinade than many of the other Korean vendors.
The burrito was a bit spicy, but not too much, with the rice, lettuce and cheese moderating the amount of spiciness.
This was a very tasty burrito, and it was filling too.  What it lacked in length, it more than made up for in width and flavor.  At $8.50 for a burrito or $8.95 for 3 tacos (plus tax), they are a bit pricey, but the food is fresh and tasty, and the portions aren't skimpy.
You can follow Seoul Food on twitter here or on our Mobile Munchies twitter feed with lots of other vendors.  You can also see their full menu here, here and here.