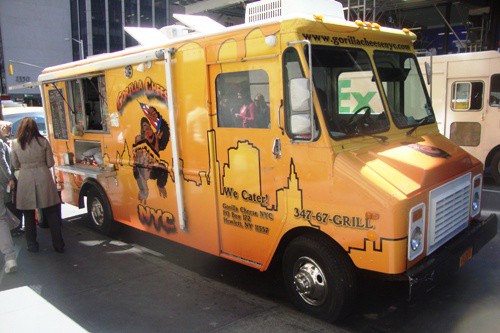 I'm glad lots of the food trucks change up their menus from time to time or have rotating specials.  That gives me a chance to try something new for lunch on a regular basis.  In fact, I got to try 2 new things on my visit to Gorilla Cheese late last week.
What caught my attention was the special, a jerk chicken melt, which cost $7.  When I was ordering I saw a new dessert called "apple pie melt". I like apple pie (and cheese), and it only cost $3, so I decided to give it a try.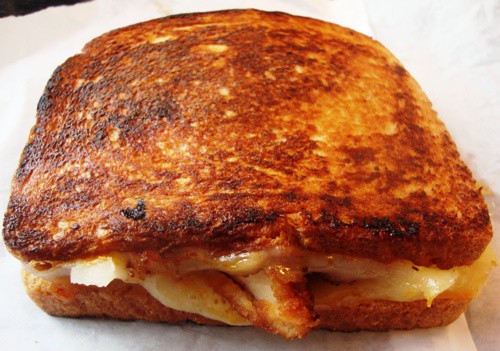 The weekly special had lots of breaded jerk chicken, muenster cheese and sliced tomato on French bread.  The jerk chicken was nice and peppery, with a decent amount of heat.
The muenster cheese was a good, creamy match with the peppery chicken.  As you can see above, the bread was grilled to a golden brown.  This was an enjoyable sandwich, with a crispy exterior, and a soft, tasty interior.
When I finished the sandwich and was ready for dessert, I reached into the bag and pulled out…another sandwich?  I didn't realize the "apple pie melt" was a grilled apple pie sandwich with cheese!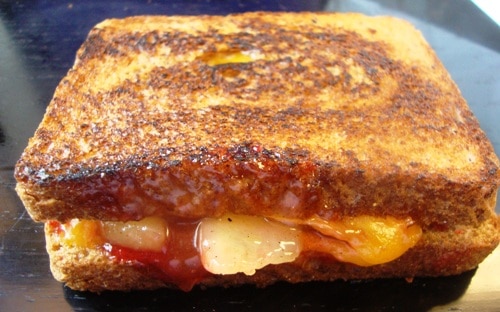 Oozing out the side of the sandwich were sliced apples, cheddar cheese and a thick, red, syrupy sauce.
I took a bite and got a mouthful of apple, cinnamon and some cheddar cheese, but mostly apple and cinnamon.
I couldn't quite place what the red sauce was, so I asked James, the owner.  He told me the red in the apple pie melt was pulverized red hots!  That would explain the cinnamon flavor…and the sweetness.
Two sandwiches was a bit much for lunch and dessert, but they were both delicious.  One way to solve this dilemma is to go to Gorilla Cheese with a friend and split the sandwiches.  That way you can have lunch and dessert without eating two sandwiches, like I did.
Gorilla Cheese gets around to different neighborhoods for lunch and dinner, so you should check their twitter here or our Mobile Munchies twitter feed.  They have a special sandwich each week that's usually a good way to go.  The special sandwiches are generally $7, and you can add a side order of tater tots and a bottle of water for another $3.