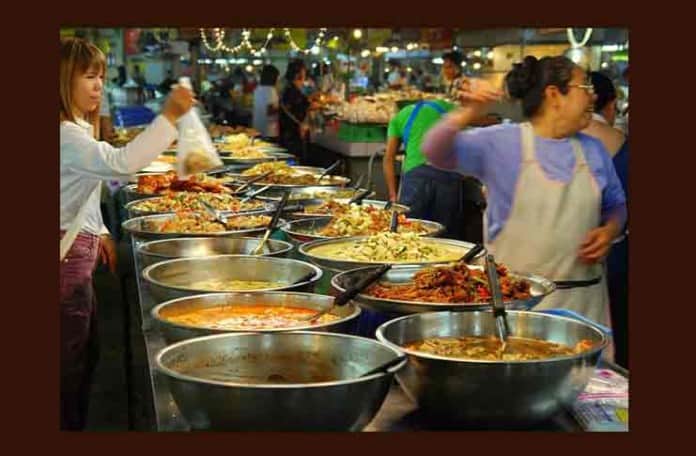 A scrape over a Bay Ridge sidewalk escalated into an all-out war last week, when a controversial halal cart mowed down a Fifth Avenue bar owner during a fight over a coveted corner spot, witnesses claim.
Sammy Kassen, manager of the Middle Eastern Halal Cart (holding a list of signatures from customers supporting his food cart), was trying to reclaim his food wagon's location at the corner of Fifth Avenue and 86th Street on March 24, a spot taken away from him after someone quietly placed two benches atop his normal hangout under the cover of darkness, when several merchants, including Lone Star Bar owner Tony Gentile — a longtime critic of Kassen's cart — created a human barricade, preventing him from backing in.
Kassen moved aside several newspaper boxes — a Bay Ridge Courier bin among them — and was maneuvering into the spot he made for himself when he reportedly backed into Gentile.
Imam Hassanain, who works at the Halal Express Food stand across the street, said he saw Gentile fall.
"A guy was blocking him saying 'you can't come in here,' then he brought the cart in and knocked the guy down," Hassanain remembered.
An FDNY spokesman said an ambulance brought someone suffering from arm and leg injuries from 86th Street and Fifth Avenue to Lutheran Medical Center at 4:35 pm. Cops from the 68th Precinct were also responded to a verbal altercation and assault, but no arrests were made.
Gentile declined to comment for this story.
Kassen said the merchants didn't want him setting up shop near the corner.
"They were saying, 'Hey, you can't come in here.' We said, 'We just want to do business,'" Kassen said. "We got out and we argued, and there was a crowd blooming around us."
A police source said that Middle Eastern's permits are in order, so, if any charges were filed, Gentile would have been taken away in handcuffs since he was preventing a permitted merchant from doing business on a city sidewalk.
Councilman Vincent Gentile (D-Bay Ridge) — who is not related to the bar owner — was getting a haircut at a nearby barbershop when the conflict broke out and tried to mediate the dispute, according to spokesman Justin Brannan.
"He just tried to cool things down, until cooler heads could prevail," Brannan said. "The whole situation needs to be worked out by the business improvement district."
Fifth Avenue merchants have been complaining about the Middle Eastern Halal Cart for months, claiming that the gyro seller pollutes the sidewalk, attracts rowdy drunks, and gets off without paying the same steep rents as brick-and-mortar restaurants.
In fact, Gentile was hoping to uproot the food cart by installing flower beds on its prime piece of sidewalk real estate when the benches mysteriously popped up sometime after 4 am — after Kassen closed up shop for the night.
Kassen said that Middle Eastern wants to return to the spot it occupied prior to the benches' enigmatic appearance, and that the business has been in touch with attorneys and city agencies about getting the new street seats unbolted from the pavement.
"We called 311, we called the Department of Transportation, and they all said the same thing — these benches are illegal and they're looking into it," Kassen said. [The Brooklyn Paper]