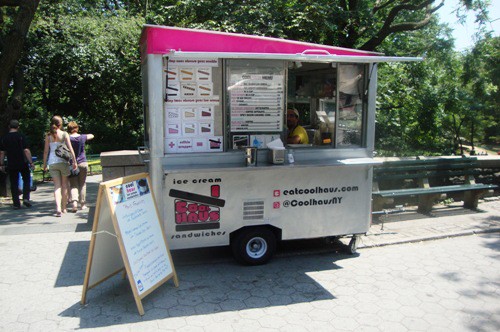 Can you ever say no to an Ice Cream Sandwich? I have always loved ice cream, even after working at Carvel for a year in high school. The first day on the job, the owner said to eat as much ice cream as I wanted, because everyone got sick of it after a few weeks. Guess he didn't know me very well.
After about 6 months, I did get a little tired of chocolate, so I switched to vanilla 🙂 That gave me a little variety for the rest of the year. I ate as much ice cream on the last day on the job as on the first, and my love affair with ice cream continues to this day.
These days my interest in ice cream is more about quality than quantity, and there is no better quality ice cream in New York from a truck or store than Coolhaus.
Click here to read some background about how Coolhaus began in L.A. back in April 2009. After opening in Austin, Coolhaus opened a truck here in April 2011, on a cold, damp day if I remember correctly.
Since then, they opened a 2nd truck here, as well as a cart on Central Park West & 80th St, across from the American Museum of Natural History (one of our favorite places in NYC btw).
Coolhaus is all about ice cream sandwiches (or "sammies" as they call them). When you order, you choose a cookie for the sandwich – and there are some pretty interesting ones.
The ice cream gets even more creative than the cookies. How about beer & pretzels, Cuban cigar or Peking duck ice cream? I went to the cart wanting to try their fried chicken & waffles ice cream, but they only had it at the truck. Don't worry, you can get normal ice cream flavors there too.
I enjoy the combination of sweet and spicy, so I ordered chocolate chipotle ice cream sandwich and got it on snickerdoodle cookies.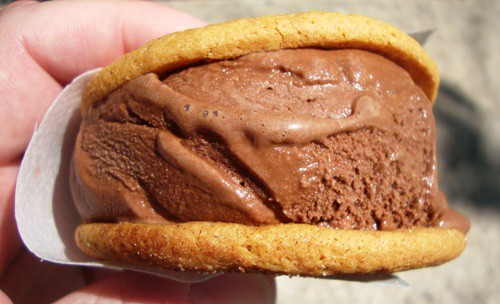 Licking the ice cream first, it was a deep, rich chocolate with the flavor of the spicy chipotle pepper coming through clearly. A sweet and spicy dessert that's also cold is a very interesting sensation, and I mean that in the best way possible. My favorite type of chocolate is dark, and this tasted much closer to dark than milk chocolate.
There was another flavor I couldn't decipher at first, but then it came to me – bourbon. This is ice cream for adults, and a bunch of their flavors have alcohol involved (gin & tonic, Guinness chip, spiked egg nog). It's not enough to catch a buzz, but I definitely tasted a little bourbon in the ice cream.
The snickerdoodle cookies were hard enough to hold the ice cream, but soft enough to bite through so the ice cream didn't squeeze out of the sides. They also added cinnamon and vanilla to each bite, which were perfect with spicy chocolate.
Another interesting thing about Coolhaus is they give you an edible paper wrapper to hold the sammie. It doesn't really taste like anything, but when you take a bite, you don't have to worry about getting a napkin out of the way. It just makes things easier.
Great quality like this doesn't come cheap. An ice cream sandwich is $6, which is expensive for a sammie, but you get fantastic ice cream and two large, delicious cookies. I think it's worth the money, but you're always willing to spend a little more on the ones you love. Based on the steady expansion of Coolhaus around the country, we 're obviously not the only ones who feel that way.
You can find Coolhaus on Twitter here or on our Mobile Munchies Twitter feed. For an interesting read, check out their menu here.
Below is a strawberry ice cream sammie on chocolate cookies we had a while back. See, they have normal flavors too.