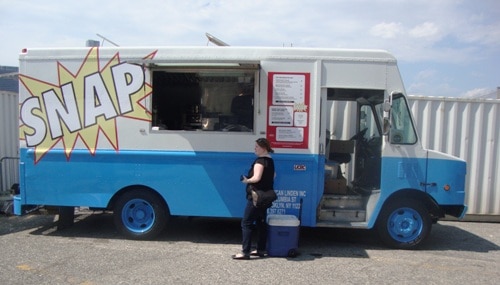 Ever had Avocado Fries? Well, one of the newest food trucks in NYC is Snap. The are named after the "snap" a good hot dog makes when you bite into it. One of the owners is originally from Chicago, and that's what Snap's specialty is, a Chicago Dog.
For our First Look a few weeks ago, we had a Chicago Dog, but it was too hot that day for avocado fries, so we got regular fries.
For our second visit, we went for a cheeseburger and those avocado fries, although we ran into a little snag with the order.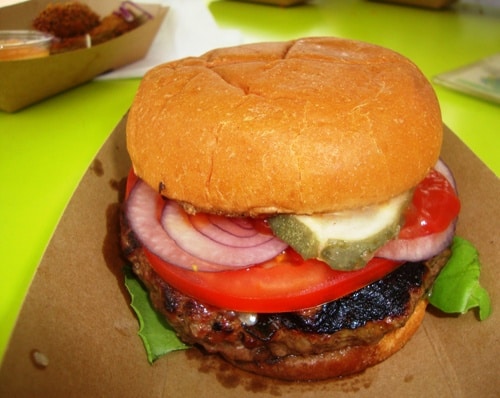 Snap get their organic, grass-fed burgers from Hudson Valley Farms, and it's served with lettuce, tomato, red onion, dill pickle slices and ketchup.  I also got cheddar cheese.
The Snap burger costs $7.50 and the cheeseburger is $8.50, which is a little on the high side, but this was a great tasting burger. It really tasted like it just came off your backyard barbecue, with a nice grilled flavor, and the quality of the meat was excellent.
The lettuce, tomato, pickles and red onion were all impeccably fresh, but the cheddar cheese didn't really come through. A sharper cheddar cheese would have been better.
When I was handed the avocado fries, Liz told me this was the last order they had, and it was only about half an order.  Normally you get 5 large avocado fries in an order for $5, but they only had 3 left, so she said they wouldn't charge me for them.
I'm happy to get something for free, but I heard several audible groans from people on line behind me when they put the "Sold Out" sign over the avocado fries. Guess I got lucky.
The avocado fries were breaded with a panko-crust and fried, which gave the outside some crunch, but the inside was as soft as could be.  This was an interesting juxtaposition of soft, creamy and crunchy.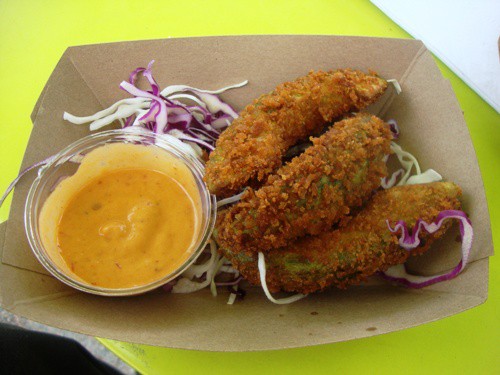 Avocado often needs something to pick up the flavor, and the container of chipotle mayo did the trick. It gave the fries some spiciness and rounded out the flavor.
Another interesting thing about the Snap truck is it runs on bio-diesel, which is made from the old cooking oil they use to make avocado and potato fries. Their slogan is "Fueled By Fries", and they mean it both literally and figuratively.
The Snap truck does not currently have a street vending permit, but you can find them at the Hudson Square Food Truck Lot on Wednesdays and the Long Island City Food Truck Lot on Fridays.  They will also be at Pier 13 in Hoboken, and various special events in the area, such as Parked!
You can follow the Snap truck on twitter Twitter here or on our Mobile Munchies Twitter feed.