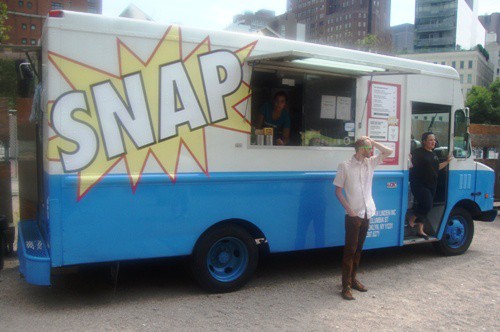 I've been on a bit of a hot dog quest lately, and my latest conquest was a chili cheese dog from Snap. They are one of the newer food trucks in town, and are named after the 'snap" a good grilled hot dog has when you bite into it.
Snap is best known for their Chicago Dog, where one of the owners is originally from. Since we already covered that one, the chili cheese dog for $5 was next on our list.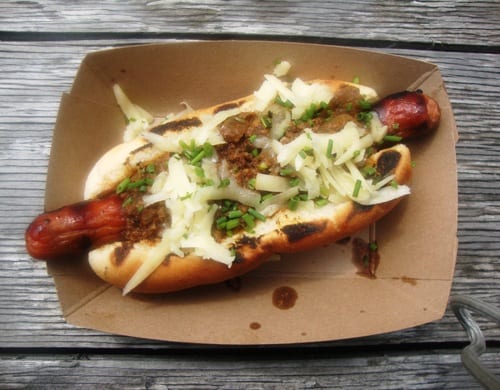 The chili cheese dog was served on a toasted top-sliced bun.  With all the toppings, it was not easy getting my mouth around the whole thing – but I managed.
The chili was mainly meat with no beans visible, although there were probably a few mixed in.  The cumin in the chili was easy to detect, and this was not what I would call spicy. If you don't like spicy chili, this should be fine.
With the chili, a medium-sharp cheddar cheese was a good choice, and the chives were a nice touch.  The toppings were delicious on the hot dog…which brings us to the hot dog.
Snap get their hot dogs from Brooklyn Bangers, which are made from organic, hormone-free 100% beef brisket.  Snap worked with them on a custom recipe that is as close-as-possible to the classic Chicago Vienna beef flavor, but made locally in Brooklyn.
Snap doesn't currently serve on the street, but they are at the Hudson Square and LIC Food Truck Lots a few days a week. They also just announced a new food truck lot in Red Hook they will be at for dinner 3 nights a week.
Check twitter here or our Mobile Munchies twitter feed to find the Snap truck.