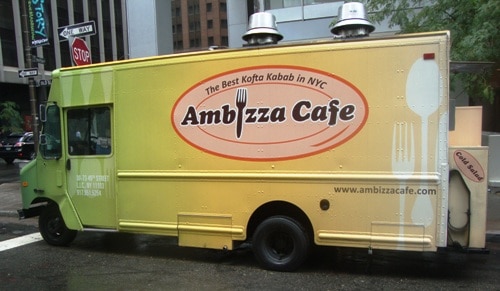 Recently I went down to the Financial District for lunch, but didn't get there until around 3pm.  Both of the vendors I wanted to try were closing up.
Not sure where to go for lunch, I spotted the Ambizza Cafe truck on the corner of Old Slip and Water St.  I tried them once before when they used to park in midtown on Vanderbilt Ave.  Now they park in FiDi on this corner every day for breakfast and lunch.
My first visit was a decent lunch, certainly good enough to try the truck a second time.  I decided to get a chicken shish kabab platter for $8.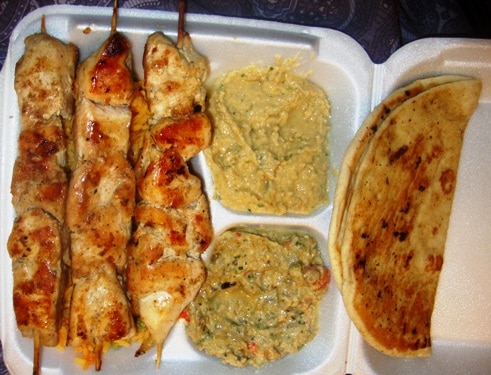 After I ordered, the chef told me this lunch usually comes with 2 kababs, but since it was late Friday afternoon, he was going to give me 3.  They aren't open over the weekend, and he would rather have a happy customer than throw out food.  He was also telling me not to expect 3 kababs next time.  No problem, and thanks.
Each kabab had 5 pieces of marinated, cubed chicken, so 2 kababs plus rice (hidden under the chicken), hummus, babaganoosh and a pita bread is plenty for lunch.  I shared this with my wife, and it was enough for both of us for lunch.
You can also get a sandwich for $5.  Did I mention every sandwich and platter includes water or soda?  The sandwich and soda for $5 is a great deal, and a platter and soda is a good deal too at $8.
The all white-meat kababs were nicely grilled, and pretty thick.  One of the kababs was a little dry, but generally the meat was good grilled, marinated chicken.
It's not in any of the photos. but lunch came with a small container of yogurt & cucumber sauce that was a tasty dipping sauce for the chicken.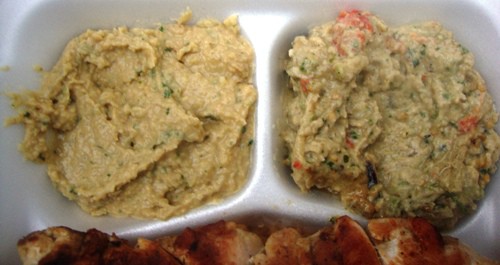 The hummus (photo, left) was thick, garlicky and lemony, with some spices in the mix.  It wasn't as creamy as the best hummus can be, but it was still pretty good.
The babaganoosh had pieces of eggplant and red pepper, and was significantly spicy, certainly more than I expected.
Under the chicken kababs was yellow rice with small pieces of carrots and peas. It won't win any awards, but was fine.  Same thing with the pita bread – good, but not great.
The Ambizza Cafe truck doesn't reach the heights of the better food trucks in the city, but they are significantly better than all the halal carts, and about the same price.
Ambizza Cafe doesn't seem to have a website of twitter account, but they are on Old Slip & Water St every weekday for lunch and dinner.  If you go there, you can expect a solid meal at a good price.