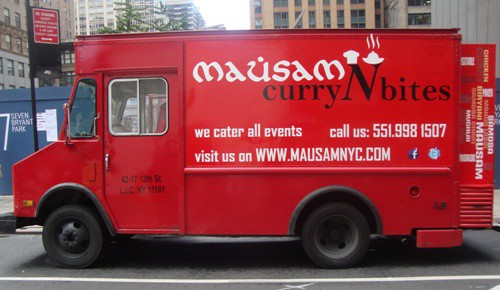 We woke up with a craze for Chicken Curry. We also knew that one of the newer food trucks around town is Mausam Curry N Bites. We tried them once before, and had a nice vindaloo.
Going back for an encore, we decided to get chicken curry, which cost $8.
Wanting to try an appetizer, we also got an order of vegetable somosas for $3. They have chicken samosas too.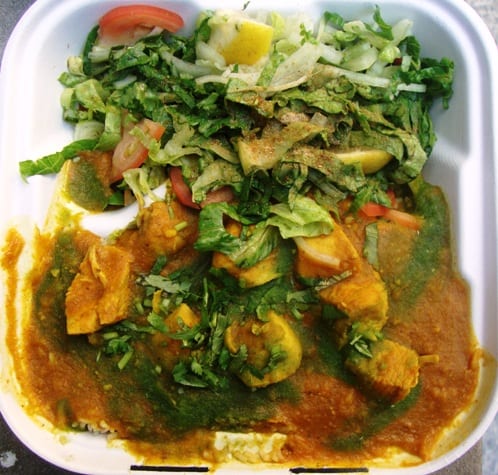 This time we started with the appetizer, which is not always our order of operation. There were two large samosas in the order, although one would have been enough.
Inside the samosas was a mash of potatoes, plus peas, carrots and corn. The filling was curry flavored, and it turned out to be fairly spicy.
The samosas came with two different dipping sauces. One was a spicy green chutney, made with cilantro and other herbs. The other was a sweet and tangy brown chutney that was a little spicy, but not as much as the green chutney.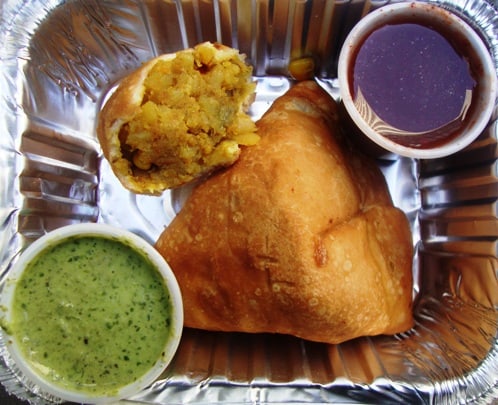 We preferred the sweet and tangy chutney with the samosas, but that was more a personal preference than a difference in quality.
After eating the samosas, we opened the container and got a whiff of the fragrant curry sauce. There were 8-10 chunks of white meat chicken in the sauce, and they were quite tasty. No bones or other funky stuff to deal with in the chicken.
The curry sauce was creamy and spicy (at my request). You can also get this dish mild, if you prefer.
The curry sauce was especially good with the rice. It was basmati rice, and was spiced with cloves, cinnamon  and other herbs.
Our second lunch at Mausam Curry N Bites was just as enjoyable as the first. You can find them on Twitter here or on our Mobile Munchies Twitter feed. Track them down if you're in the mood for a good Indian food truck lunch. They have a lot of vegetarian options as well.