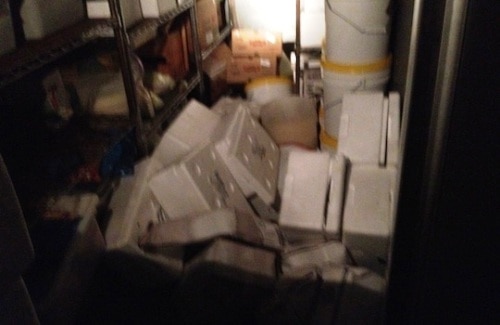 We know there has been a lot of coverage on NYSF about Hurricane Sandy and its aftermath. We apologize if you're starting to feel Sandy overload, but  these are our friends and neighbors who were affected. We were one of the lucky ones, with only no power to deal with for 4 days. We still have our home and job.
Unfortunately, that is not the case with a lot of others. As you all know, our beloved food trucks have been out every day feeding those most devastated by the storm, but one food truck is not able to.
Along with most of Red Hook, our friends at Red Hook Lobster Pound suffered extensive damage and losses from the storm. Not only was The Pound and their commissary flooded with over 4 feet of water, losing all their tanks and inventory, but their food truck, Big Red, needs to be totally rebuilt.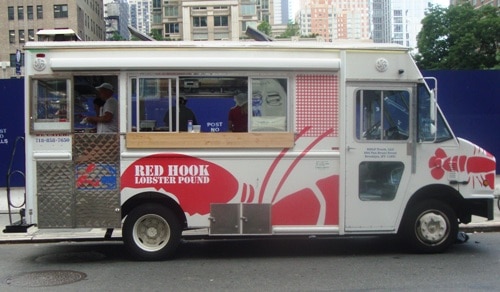 The Red Hook Lobster Pound was a pioneer in Red Hook, and Big Red made a lot of people very happy, including us.
Please click through to find out you can help Red Hook Lobster Pound get back on their feet, and Big Red back on the street. Yes, you will get to enjoy their delicious food while helping them out.
If you personally want to lend a hand with a skill, or just some elbow grease, please email info@redhooklobster.com or tweet @RedHookLobster. This could mean manpower, tradesmen, designers, painters, comedians, garbage bags, or anything else you can think of to lend a hand. Everything is appreciated.
Red Hook Lobster Pound is also raising this money through a special gift certificate program. For every gift certificate that you buy now, 75% of the purchase price will be yours to use at any of our locations and 25% will go directly to the rebuild.
Buy now, enjoy amazing lobster later, and feel good in helping others. It makes a great Christmas or Chanukah present!
After they reopen, there will be a larger picnic room with a/c, heat, and a real bathroom.  There will also be a special party to thank all of their helpers and contributors.
You can buy the Red Hook Lobster Pound gift certificates on Smallknot here.
After they reopen, you can enjoy one (or two, or three) of these!