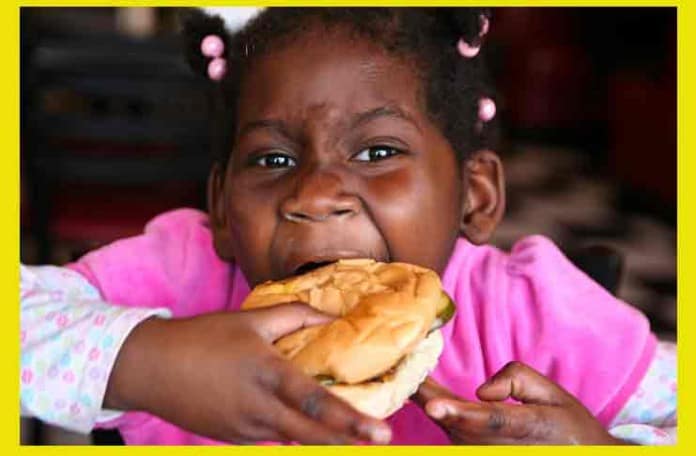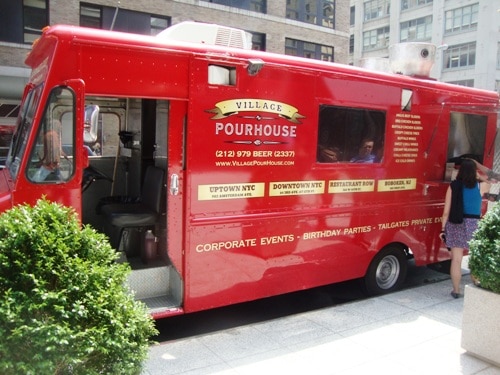 As I mentioned Friday, Village Pourhouse, a bar with 4 locations in the New York metro area, just came out with a food truck last week.  They don't serve drinks (damn!), but they do serve a menu of bar food such as sliders, wings, chili cheese dogs, fries and milkshakes.
When I was at the truck Friday, it was what you would call a soft open.  They were still getting their "sea legs" and working out the kinks.  A few important things were not available at the truck yet, such as menus with prices and containers with lids.  Both were coming soon I was told.
The only menu available was on the side of the truck (below), and it didn't have prices.  I asked for a few of the prices, and found out the sliders were $3 each and an order of wings was $5.
For the NYSF First Look, I ordered a beef slider, a buffalo chicken slider and sweet chili wings, which totaled $11.  The guy in front of me ordered fries, and I took a picture of that too, which is after the jump.
First up was the Angus beef slider, which was a thick little slider with a square of American cheese and a pickle slice on a bun.
The beef slider was pretty rare inside, but was grilled well on the outside, and it had a nice, beefy taste.  If you don't like rare beef, make sure to ask for it well done, because I didn't say anything, and my beef slider was quite rare.  Luckily, I like it that way.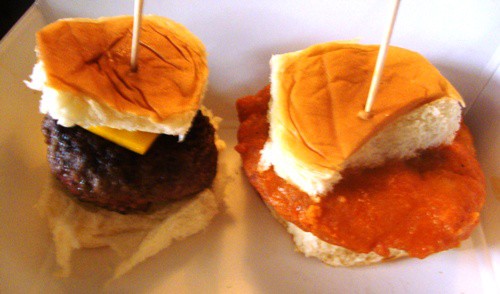 The buffalo chicken slider was next, and it was a thin patty of minced chicken, breaded and doused in a spicy "buffalo" sauce.  The chicken patty seemed a little processed, but it had a nice kick, which the blue cheese dressing under the patty complemented well.
My last dish was sweet chili wings, which were not wings at all.  They were chicken nuggets, but unlike the slider, the chicken was not minced, it was chunks of white meat chicken inside the breading.
I can see why they don't call them chicken nuggets, because the connotation for chicken nuggets is usually processed, minced chicken, and these were not.
Sweet chili sauce is one of my favorite sauces, whether its on Chinese food, in a Chennai kati roll, or on chicken "wings".
This chili sauce was on the sweet side, but it wasn't overly spicy.  The dish came with a small container of blue cheese dressing, but I preferred it with just the sweet chili sauce.   If I had gotten buffalo wings, the blue cheese dressing would have been used a lot more.  These were good as served.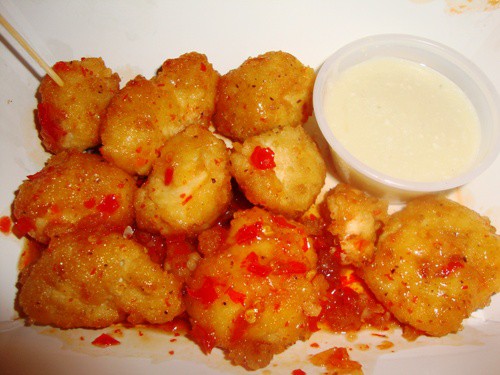 Below is a photo of the fries that were bought by the guy in front of me on line.  I didn't get to taste them, but they looked to be well seasoned with salt & pepper, and still had the skin on.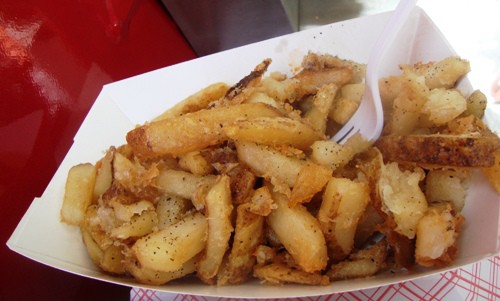 The Village Pourhouse truck is a nice addition to the New York Street Food scene, serving comfort food to hungry New Yorkers. Let's hope they iron out the kinks soon, because if the service continues to be as uneven as it was today, they will not get too many repeat customers.
On the better food trucks, service issues get fixed with a little time, so we will check back in a few weeks to see how things have progressed.
The Village Pourhouse truck will be added to our directory and the Mobile Munchies twitter feed as soon as they get a twitter account.  Their website is here.
UPDATE – 8/1/11
The Village Pourhouse contacted us, and their twitter handle will be @pourhousetruck.  We have added them to our Mobile Munchies twitter feed.