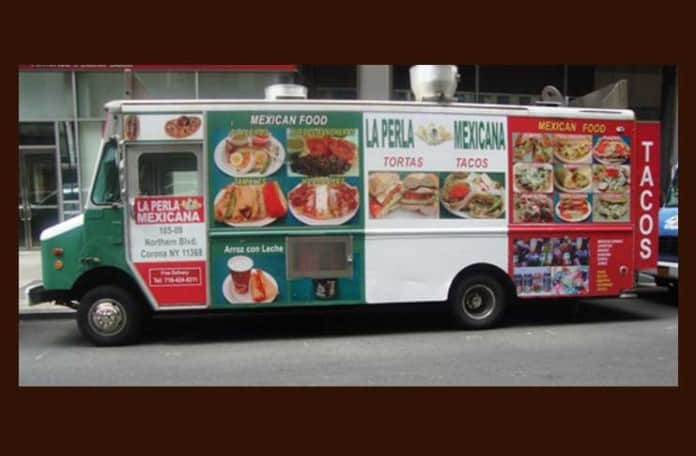 Over the summer, we tried a new M truck on Park Ave & 52nd St called La Perla Mexicana (The Mexican Pearl). It's an old-school Mexican food truck, and was good enough that we wanted to try more.
Luckily, they just started parking one day a week (Tues) on Broadway btw 55-56 St, right around the corner from our office.
It's been a while since we had a sandwich, and they had two choices: tortas or cemitas (both $7). We went with the cemita, and chose al pastor for the meat.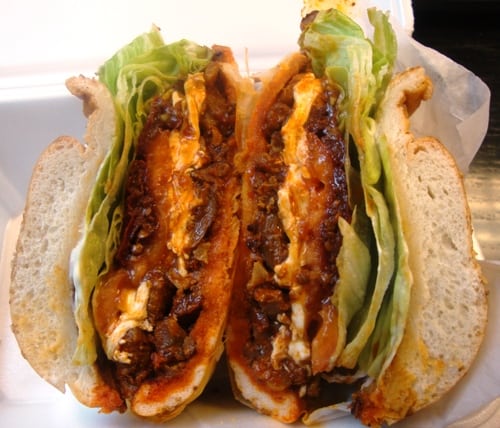 When we ordered, they asked if we wanted it spicy, and we said yes. It's a good thing they put hot sauce in a container on the side, because it was already pretty damn spicy without the hot sauce…and the hot sauce was VERY spicy!
The sandwich was big and overstuffed, with meat and beans falling out left and right.
On the cemita were lettuce, tomato, mayo, cheese, beans, ancho chilies, and of course, a large portion of roast pork and onions in a spicy sauce.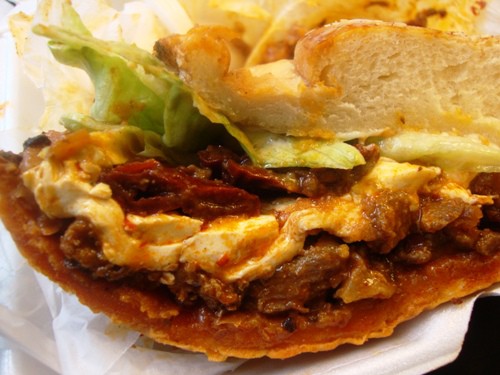 Even though the cemita was wrapped in wax paper, we ended up having to use a fork to finish the end of the meal.
To cool things down a bit, we got a bottle of Jarritos for $2. They only had fruit punch and pineapple, but those are two of our favorite flavors, so no worries.
This was a hearty, if messy, a mexican food lunch from La Perla Mexicana. For $7, we were well satisfied until dinner time.
La Perla Mexicana are old school, and they don't seem to do the social media thing. You can find them at the usual food truck haunts, such as Park Ave in the high 40's-low 50's, 46th & 6th, and now 55th & Broadway.
While they are not quite as good as Mexico Blvd, you can count on La Perla Mexicana for a filling, tasty, reasonably-priced lunch.