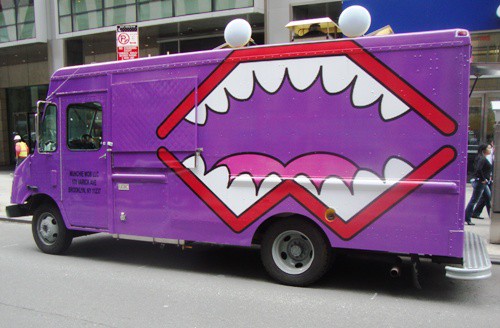 Another new food vendor hit the NYC streets recently called the Munchie Mobile Truck.  It's owned and run by 3 NYU students, one of whom worked on two other food trucks that I'm sure you've heard of.
You know the truck is geared for students when there's Red Bull on the drink menu, but you don't have to be a college student to enjoy their food.
Munchie Mobile Truck has 1/3 lb burgers, half a dozen different grilled cheese sandwiches, 5 types of pancake dishes (all day) and a few other sandwiches that defy categorization – other than they are all great munchies.  We had a Kiss of the Dragon on our 1st visit.
The entire menu of Munchie Mobile Truck looked good, but now it was time to try a burger.  Their lunches  are too large to get more than one item, but luckily I met my brother at the truck, so I got The Magician for $8, he got a Bleu Dream for $7.50, and we split them.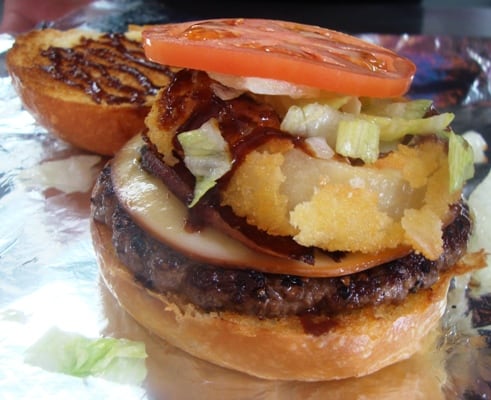 The Magician was a large beef patty with gouda cheese, bbq sauce, bacon and a big onion ring on top.  You can also get lettuce and tomato at no additional charge, which I did.
The combination of bacon, bbq sauce and a burger is usually pretty awesome, and this one was even better with an onion ring on top.  The bun was soft and eggy, and held everything together no problem, even when the burger's juices started flowing.
Although I enjoyed The Magician, the gouda cheese did get kind of buried.  With bacon & bbq sauce, you need a stronger cheese, perhaps a sharp cheddar.  Maybe they can let people choose their cheese from the ones they have on board.  The sandwiches are assembled while you wait, so it shouldn't be too hard to do that.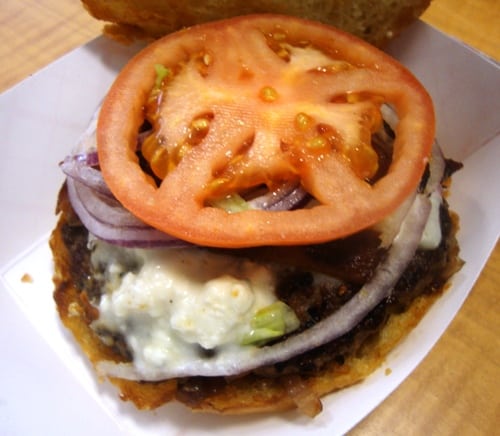 The Bleu Dream had caramelized onions, bleu cheese and bacon, and was on the same type of burger bun.  My brother ordered it with sliced red onion and tomato.
This was even better than The Magician!  I've always been a huge bleu cheese fan, and this one had a very nice flavor.  Bleu cheese burgers are among my favorites, so I guess I'm kind of biased, but the execution on this one was great.  I could taste the caramelized onions, but in the background.  To stand up to bleu cheese, you need raw onion slices, which we had.
Both burgers were very good.  The Magician took a better photo, but the Bleu Dream was more to our personal taste.
You can find the Munchie Mobile on twitter here or on our Mobile Munchies twitter feed.  I get the feeling these guys are going to be pretty popular pretty quickly, so check them out before the lines get too long.
Walking back from my brother's office, the line was much longer than when we got lunch.  As we always say, get there early!