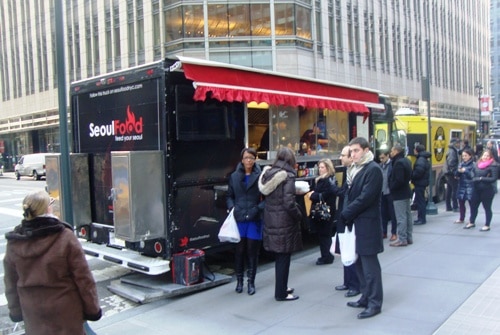 Ever had a Portobello Mushroom Bun? Well, Seoul Food may not have been the first Korean food truck in NYC, but since they hit the street a little over a year ago, they have become a stalwart of the scene.
We've slowly been working our way down the menu, but never tried their buns and sliders. You can get 2 sliders for $5.95, and a bun for $3.50, which is exactly what we did.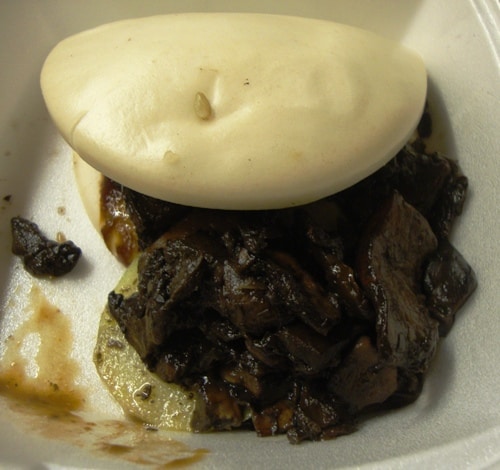 The Portobello Mushroom Bun (above) had a strong mushroom flavor, but it was tempered by hoisin sauce.
There were also pickled cucumbers on the bun, which along with the meaty chunks of mushroom and the sweet and tangy hoisin sauce, created a nice variety of tastes.
The Portobello Mushroom Bun was soft, but didn't have much flavor. That was handled by the stuff in the middle.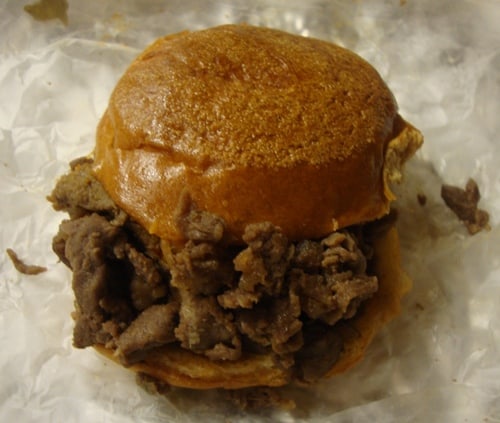 Next up was the bulgogi (ribeye) beef on a brioche slider. The beef was lightly marinated and had a sesame flavor, and it was topped with kimchi aioli and spicy mayo.
The Portobello Mushroom Bun was nice and soft, but we didn't see or taste the pepper jack cheese that was listed on the menu. That would have been a good addition.
The final slider was sweet and spicy pork (below). The heat built up slowly , and it was a little greasy, but this slider was definitely enjoyable. The cucumbers were more apparent on this slider than on the bulgogi, but that was probably just a quirk of the preparation process.
Getting two sliders and a Portobello Mushroom Bun is a good way to sample a few different things at Seoul Food. You can also sample by getting 3 tacos for $8.95, which we haven't done yet.  Sounds like a plan for our next visit.
You can follow Seoul Food on twitter here or on our Mobile Munchies twitter feed.   To see their full menu, look here, here and here.