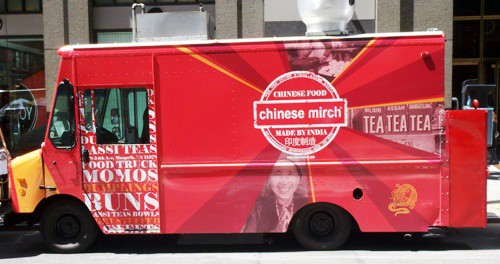 Chinese Mirch did a curious thing recently. They put a new wrap on the truck and even got a new twitter handle to refresh things. Then they went and changed the menu to be even more like a lot of the other food trucks.
New momos and buns were added to the menu, and now you can make any lunch into a rice or noodle bowl by adding $4. All they have to do is give you an option for tacos and they'll hit the trifecta.
We ordered two of the new menu items, Bok Choy & Tofu Momos for $6 and Sweet Mini Buns for dessert for $3.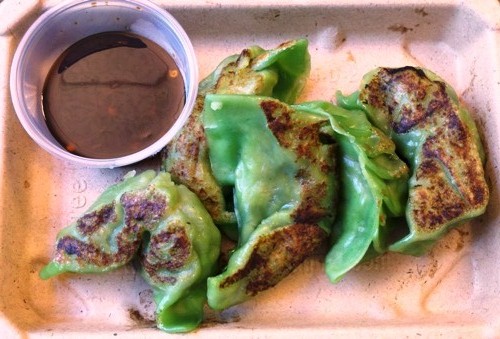 Even though we did not get the rice bowl add-on, let us tell you about it. You can choose from 4 kinds of momos. Then you choose a base of basmati rice, brown rice, soba noodles or thukpa soup. Finally, there is black bean sauce or Manchurian sauce, which is spicier.
Digging into the momos, they were made in a green vegetarian skin and grilled well on one side. Inside was minced bok choy, tofu, carrots and even a couple of kernels of corn.
The dipping sauce that came with the momos was thick, sweet and spicy. It definitely picked up the flavor well.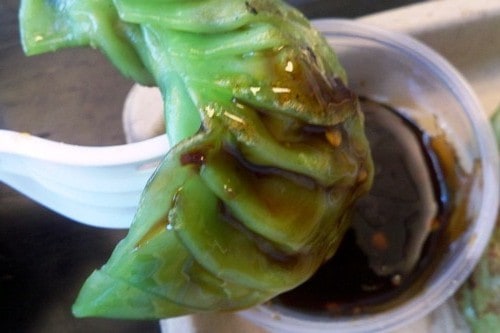 Five dumplings for $6 is not a great price in Chinatown, but in midtown, it's about par. Our biggest problem with 5 dumplings for lunch is being hungry by dinner. Guess we should have gotten the rice bowl add-on.
Instead we got dessert. You can get 4 Sweet Mini Buns for $3 or 8 of them for $6.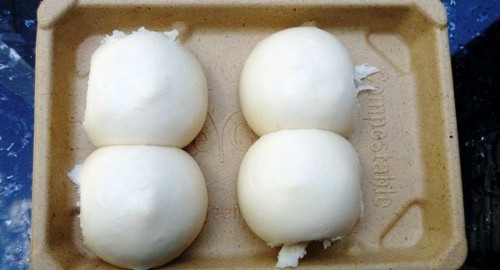 The buns were similar in look, texture and taste to most of the other Chinese buns we've had in the past. The difference was in the size and the filling.
We really enjoy bbq pork buns from time to time, but these were of the dessert variety. The buns were smaller than bbq pork buns, and were filled with what we guess was a bean paste. Each bun was about 3 bites for us, and 4 of them was plenty.
The filling had a bright yellow color, and was sweet and a little starchy. The sweet center was surrounded by a spongy bun.
It's good that Chinese Mirch is making tweaks here and there trying to keep things fresh. A stagnating menu is a recipe for disaster.
As we mentioned, Chinese Mirch has a new twitter handle @GetStuffedNow. You can find them on twitter here or on our Mobile Munchies twitter feed. Just remember they have a new red wrap instead of the old white one.