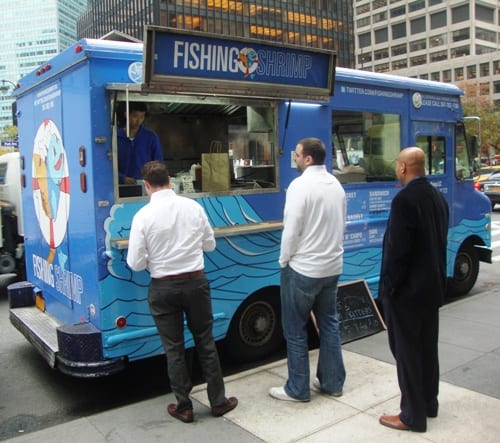 The Fishing Shrimp Truck has been off the road since Hurricane Sandy. When the situation gets better, they will return to our streets. When they do, we highly recommend the shrimp tacos, which we had a day before the storm hit.
Trying to keep up on the latest menu changes can be tricky, but there are worse jobs. 🙂
Fishing Shrimp has been trying some new things lately, such as po' boys with fish or oysters, but the one that got out attention was shrimp tacos. We love shrimp in almost all of its guises, and shrimp tacos are up there on our list.
We all know shrimp ain't cheap, but one shrimp taco here costs $5 and two are $8. It seemed like a lot to pay $5 for one taco, so we got two, which lowered the taco per unit cost to $4. See how we just rationalized that. Learn from a pro!
Who can survive on one taco for lunch anyway? Maybe a 10 year old, but not us. As an added bonus, they were giving away a free conch fritter to people who saw their tweet that morning and mentioned it. Nice little bonus.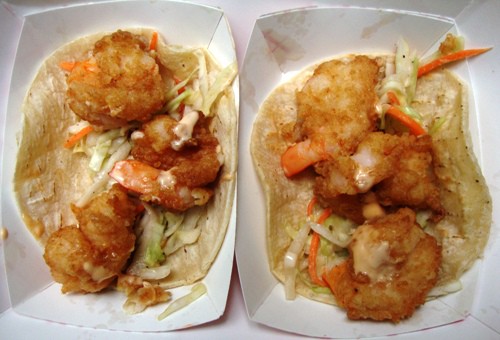 The conch fritter was a fried ball o'dough with a nice-sized piece of conch in the middle. The conch itself was a little chewy, but that's how conch usually is. We've had conch fritters a number of times in the Bahamas and on other Caribbean islands, and this was pretty authentic.
The fritter was served with a spicy remoulade sauce that was perfect with a bunch of fried dough and conch. If you want an entire order of conch fritters, they are 3 for $5 or 7 for $10. We might consider that next time, but conch fritters really need to be eaten at a beach bar with a cold beer. Might be tough finding that on Park Ave in the 50's.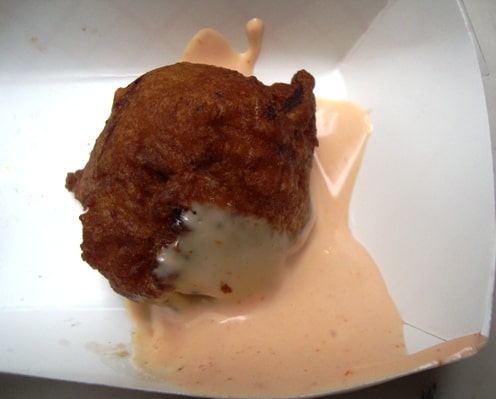 After the appetizer, it was time to dig into the main course. There were 3 medium-to-large fried shrimp in each taco, which sat on a small bed of slaw. Only one tortilla was used for each taco, which can sometimes mean trouble in the breakage department.
Picking up the first taco, there were no signs of breakage, although we did eat only a few steps away from the truck. Who knows if we had to travel.
The shrimp were plump and juicy. There's not much we like more than fried shrimp, as long as the shrimp is fresh. These certainly were. The breading was very light, like a panko crust, and not greasy. Nice job!
We would be remiss not to mention the slaw. It was basically shredded cabbage and some carrots under the shrimp, but the dressing was quite tasty. Our guess is they mixed a little honey into the mayo, and they were light on the mayo too. The slaw really added to the shrimp tacos instead of just being an afterthought.
The Fishing Shrimp truck moves around, so find them on Twitter here or on our Mobile Munchies Twitter feed.
We have enjoyed every meal we've had at Fishing Shrimp, even trucking out to Ditmas Park, Brooklyn when they first opened. Then again, we do love fried seafood.