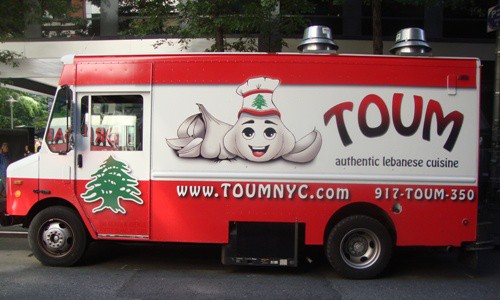 Don't know why, but today we felt like having Beef Kebab Platter. The Toum food truck has only been serving their authentic Lebanese cuisine to New Yorkers since the middle of the summer, but they seem to be catching on in a big way. Maybe too big, judging by the crowd at the truck recently in midtown.
There were about 18 people waiting for their orders when I walked up, and it took close to 30 minutes to get my order. That long a wait time may keep people from coming back, which would be a shame, because the food is good.
When we ordered, Simon told us there might not be any chicken shawarma left by the time it was our turn, so of course we ordered the beef kebab platter for $11.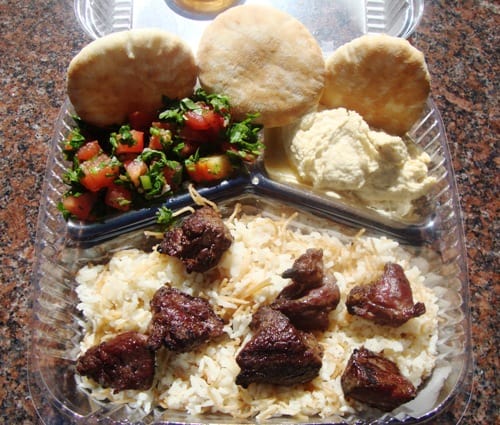 The Beef Kebab Platter comes with tabbouleh salad, either hummus or babaganouj, either rice or french fries, and a few mini pitas.
While waiting for our order, we saw the beef kebab being grilled over flames. The grill was propane, not charcoal, but that's still better than a flat-top grill.
The beef was nicely grilled and crispy on the outside. Cutting it open, the inside was cooked to medium. Each piece of beef was tender and delicious – we just wish there were a few more pieces.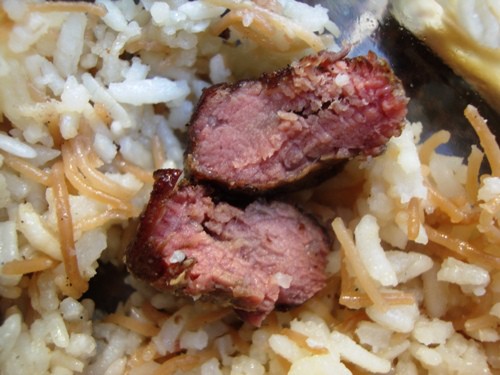 The rice was tasty, but there was something a little different about it. Oh yeah, there were vermicelli noodles mixed in with the rice. You don't often see rice and pasta together, but this worked pretty well.
As for the sides, the hummus was enjoyable. It wasn't quite as lemony as we like, but was nice and creamy. The mini pitas scooped up the hummus perfectly.
We can't comment on the tabbouleh salad because it was basically chopped tomatoes with fresh, chopped herbs. We don't like tomatoes enough to give you a proper opinion on the tabbouleh salad. However, the Beef Kebab Platter itself was quite good.
Toum moves around between a few different areas, such as 46th St & 6th Ave, 5th Ave around 20th St, and the Financial District. You can check their Twitter here or our Mobile Munchies Twitter feed to find out.
A couple of pointers for next time – go earlier, and try the chicken shawarma. It looked great browning on the spit.