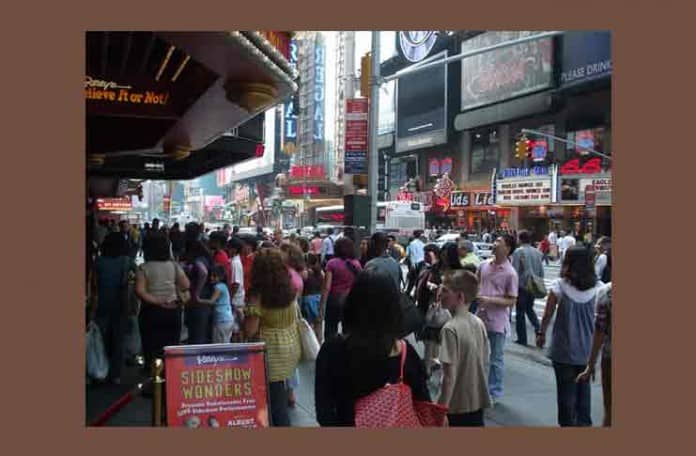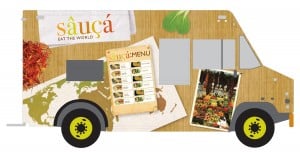 Way back in January 2010, we wrote about a new truck in Washington DC called Sâuçá whose aim was to bring global, healthy food to area residents.
Sâuçá is now opening a restaurant, and is used by the Washington Post as one of several examples of chefs using food trucks as stepping stones to opening restaurants.
Click through for more details.
From the Washington Post: The owner, Farhad Assari had every intention of opening a restaurant in DC last year.  After months of perfecting recipes for Mexican fish tacos and Indian butter chicken, touring sites along K Street and in Dupont Circle, and even commissioning a local architecture firm design the space, his plans changed once introduced to food trucks on a visit to New York City.
"The financial risks were substantially lower than starting a restaurant," said Assari, who launched his mobile eatery, Sauca, in February 2010. Getting the restaurant off the ground would have run him a cool $1 million, whereas he launched the food truck for one- tenth of that cost. "It was a better way for me to confirm my concept."
With 10,000 Twitter followers and six trucks under his belt, Assari was ready to pursue his original plan: to open a restaurant. A few weeks ago, he turned on the lights at Sauca's first brick-and-mortar location, a 3,500-square-foot store at 4707 Columbia Pike in Arlington.
Assari is among a handful of mobile food providers turning to fixed sites to grow their businesses, while keeping the wheels spinning on their trucks. Their evolution comes as some established restaurants work the other side of the street. Austin Grill, Dangerously Delicious Pies and others have begun to roll out food trucks of their own. So is local restaurateur Bo Blair, who is readying his own food truck to serve chow based on two of his District-based establishments: Surfside and Jetties.
Burning both ends of the candle comes with its challenges, namely operating costs and management. Still, the food truck movement shows no signs of slowing down.
And why would it? Food trucks are a hot local trend — like cupcakes, burgers and frozen yogurt. Just stroll over to Farragut Square on a Friday, where you can expect a lengthy wait in line at any of the dozen trucks parked around the District park. Or check out Truckeroo, the monthly festival of food trucks founded by Blair that drew more than 18,000 people for its debut last month.
It's difficult to peg exact s figures for the nascent mobile-meals industry, but the rising number of trucks on the street is telling. Randy Shore, co-founder of the strEATS, has tracked 67 vehicles currently on the road, compared to 29 when he and Daniel Preiss launched their online truck tracker last August.
The proliferation of food trucks has drawn the ire of several neighborhood groups and the Restaurant Association of Metropolitan Washington, which are calling on the city to curb the growth and impose s taxes on these vendors. Both sides are still hashing it out as legislation to update regulations surrounding food trucks snakes its way through D.C. government.
Alongside the influx of trucks, the nascent trend of operators launching mobile and stationary eateries is growing.
Pi Pizzeria, a St. Louis outfit, is gearing up for the August debut of its restaurant in Penn Quarter, six months after arriving in the District with a food truck. Owner Chris Sommers entered the market with plans for a fixed site, but figured a mobile operation would drum up business while the $2.1 million project was under way.
"We wanted the truck to be a marketing tool for our brick-and-mortar, build some excitement around our brand to open with a bigger bang," said Sommers, who runs four restaurants and another food truck in St. Louis. "It allowed us to get our feet wet in the market."
The District truck cost $30,000 and pulls in roughly $1,000 a day from s of the deep-dish pizza. Judging by the endless posts in the blogosphere buzzing about the restaurant's pending opening (there have been construction delays), Sommers seems to have achieved the desired attention.
The Internet, namely Twitter, has been a driving force behind the food truck evolution, and a useful tool as operators set up actual restaurants. Assari credits his strong following on Twitter with the stream of customers at Sauca's Arlington location. Having an existing client base and revenue from the trucks helped Assari get off the ground, though he did sell two vehicles to finance the $750,000 opening.
Osiris Hoil, owner of District Taco, also used a portion of the s from his food cart to finance the November launch of his 70-seat diner at 5723 Lee Highway in Arlington. Hoil debuted his cart in June 2009, thanks to a $50,000 investment from his neighbor, Marc Wallace.
With the success of the Yucatan-style Mexican meals, Wallace made back the investment money in a year and the two began scouting sites for a stationary operation. To keep expenses down, Hoil, a former construction worker, completed most of the $180,000 build-out himself.
He estimates the eatery serves about 700 people daily at an average tab of $10, while the cart is pulling in 180 customers a day. "I really enjoy both sides of the business," he said. "If it wasn't for the taco stand, the restaurant wouldn't be successful." [Washington Post]