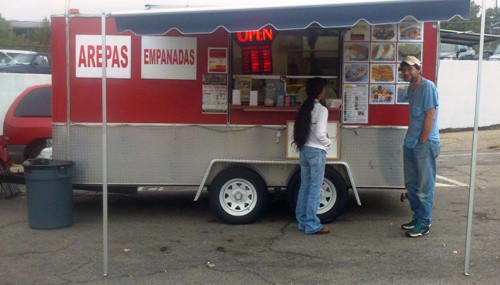 There was pretty good food truck variety in Ashevile at the one lot where food trucks were allowed to sell. In the two days we were there, we saw Korean/Mexican fusion, Vietnamese, falafel, grilled cheese and Venezuelan cuisine.
At Papear Venezuelan Food, they serve arepas and empanadas with a wide choice of fillings. We went with their recommendation, shredded beef and cheese, but they also had arepas with shredded chicken, turkey BLT, tuna salad, egg and more. You can see their full menu below.
The shredded beef and cheese arepa cost $4.50.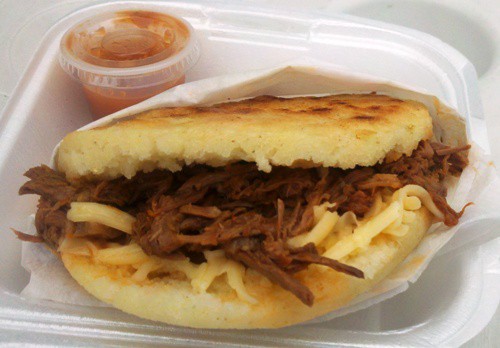 The arepa was made with two thick corn patties that were filled and grilled. The patties had a nice grilled corn flavor that was perfect with the beef.
Speaking of beef, the shredded beef was cooked in butter and spices so it was incredibly juicy and tender. You had to be careful not to get the juices on your lap, although they did wrap the arepa in a paper holder to catch most of the juices. Between the beef and the butter, there were plenty.
The cheese was shredded too, and got stretchy with each bite. It was a mild cheese though, and we would have preferred a somewhat stronger cheese.
Nevertheless, this was still an excellent arepa. Grilled corn patties, shredded beef, butter and cheese. Yum!
We don't see a twitter account or website for Papear Venezuelan Food, but their facebook page is here.