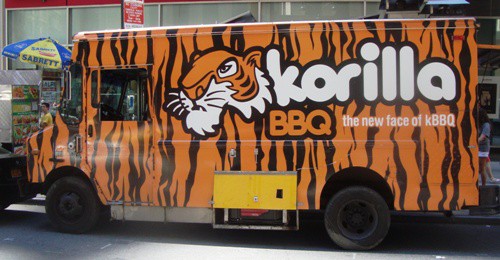 We love getting an assortment of tacos from Korilla BBQ, but they can get messy pretty quickly. That's a problem if you're eating on the street.
One way to get past this is by ordering a chosun bowl, which has all the ingredients found in Korilla's tacos, but is in a neat little container. The bowls are $8 instead of $7 for a taco set, but you'll save more than $1 on dry cleaning bills alone.
I decided to get a chosun bowl with bulgogi, which is marinated, shredded rib-eye steak. You can also get chicken, spicy pork or house-made tofu as the protein in the dish.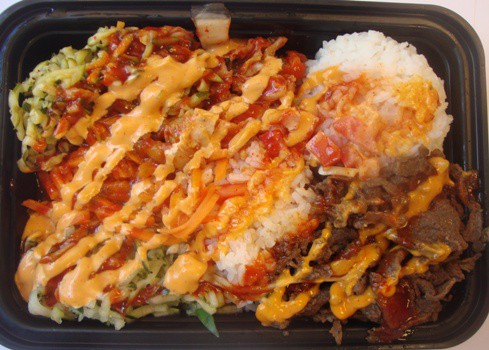 As you go down the assembly line, you tell them what you want. There are 2 choices for rice, all sorts of veggies, pico de gallo, shredded jack cheese, different choices of kimchi, and of course, a number of different sauces at various heat levels. Unfortunately, they were out of cheese by the time I got there (1:45), but everything else was going strong.
The beef was tasty, with the sweet mirin-type marinade very apparent. There was also a nice grilled flavor to the meat.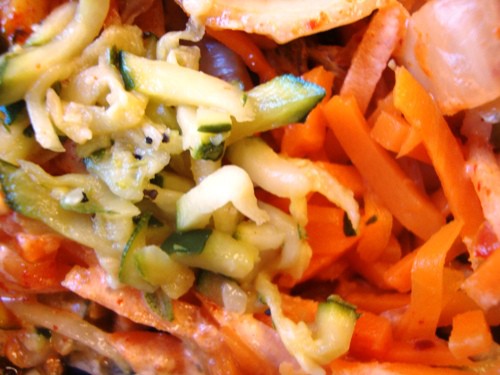 While the beef and rice were hot, the veggies and kimchi are all cold, which takes a little getting used to. Julienned cucumbers and carrots led the way, with plenty of tomatoes too in the pico de gallo. With the hot sauces I get, the veggies are a great way to cool down. I also feel really healthy when eating crisp, cool veggies.
The sauces range from mild to K-illa. I went for the Korean hot sauce, which they rate as a 3 on their heat scale. (Their K-illa sauce is rated a 5.)  The hot sauce was more than enough to get a nice burn, but not to kill my day in the loo. I also got some Korilla sauce, which is a smoky Korean mayo.
Korilla BBQ, winner of the 2011 Vendy Award for Rookie of the Year, has two food trucks roaming the city. Find them on Twitter here or on our Mobile Munchies Twitter feed.
Mission accomplished. I didn't get any food stains on my clothing today.