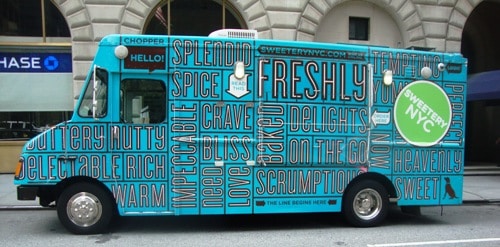 We took off today and tomorrow, and are getting into the weekend mindset. One way to do that is by highlighting the best NY food truck desserts, and any discussion along those lines Sweetery NYC.
Sweetery NYC does a lot of things well, but we especially love their baked goods.
We brought home an assortment of cookies to enjoy, and that's exactly what we did, enjoy! Our goodie bag included a snickerdoodle ($2), flourless chocolate walnut ($2.25) and a macarella ($3), clockwise from bottom.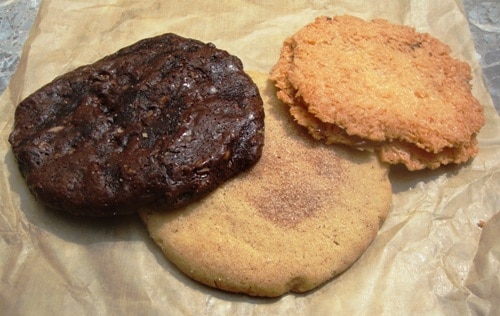 You can't tell from the photo, but take our word for it, these were big cookies. We didn't measure, but they had to be 5-6 inches wide each.
The flourless chocolate walnut cookie was exactly as advertised, nutty and chocolatey. The lack of flour made the cookie denser and less "cakey", although I wouldn't call it heavy.
Snickerdoodle is always high on our list, being big fans of cinnamon. The cookie was soft and tasty, with a nice dose of cinnamon sugar dusting the top. Yum!
The macarella is one of the most popular items on Sweetery's menu. It's the most expensive cookie at $3, but is actually two coconut macaroon cookies sandwiched around nutella cream. The toasted coconut flavor is really nice, and it's an inspired choice to pair this with nutella, a chocolate hazelnut cream.
The Sweetery NYC truck spends most mornings on Hudson St just below Houston St, in front of the Saatchi & Saatchi building. They were the first truck to park in this area a couple a years ago, which is now food truck central.
Some days they hit different areas of Manhattan for lunch, such as midtown. To be sure, check their Twitter here or our Mobile Munchies Twitter feed.
In addition to cookies, they have delicious ice cream sandwiches on fresh baked cookies, cupcakes, brownies, whoopie pies and more. You can see their full menu here.