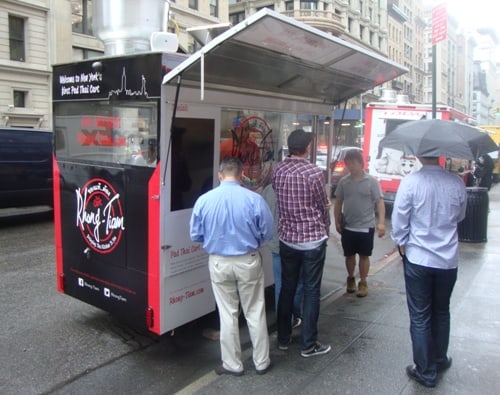 I was back in Flatiron yesterday checking things out and seeing how crowded it was with food trucks. Yes, there were some of the usual suspects (Toum, Cambodian Cuisine Torsu, Taim), but I saw a black cart from a block away that surprised me. Wasn't Fun Buns by Hudson Square yesterday? Yes they were.
As I got closer, it appeared to be a new pad thai cart from Rhong Tiam, who have an "express" location a couple of blocks away and 2 other locations in the metro area.
I walked up to the cart and asked the guy taking orders how long they have been around. He said it was only their 2nd day. Then I looked at the menu to figure out what to order, and had quite a case of sticker shock!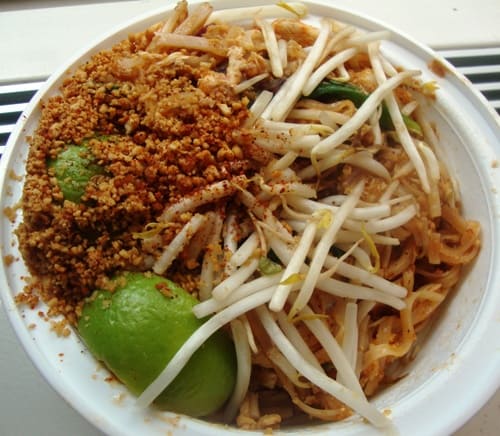 They call themselves "New York's first Pad Thai Cart", and they have 9 different types of pad thai. Where it gets kind of funky is with the prices.
Pad thai is usually one of the cheapest items on a Thai menu, but the least expensive pad thai here was $10 for either chicken or veggie & tofu.
Before getting into the food itself, here are the pad thai options:
Free Range Organic Chicken – $10
Veggie & Tofu – $10
Grass-Fed Steak – $15
Wild Caught Shrimp – $15
Berkshire Pork – $16
Roasted Peking Duck – $16
Squid – $16
Alaskan Blue Crab – $25
Maine Lobster – $30
Now let's all say it together – damn that's expensive!
This is where I call shenanigans on the "gourmet street food" scene. $30 for pad thai with lobster? This menu is like cocaine – if you're doing it often, you know you have too much money (and a problem).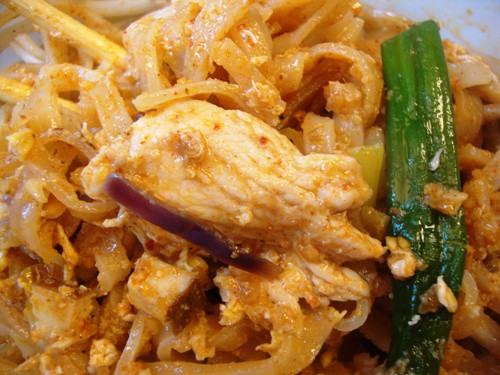 Was it good? Hell, yeah! There was a huge amount of food, with flat rice noodles, peanuts, tofu, red onion slivers, bean sprouts, scallions…and some chicken.
To tell you the truth, there wasn't a lot of chicken. Pad thai is essentially a noodle dish with some protein added, and this was true to form.
Squeezing on fresh lime juice was a nice addition, and the sauce was creamy and peanutty.
I asked for spicy, which it built up to, rather than hitting you in the face right away. That was good too.
We found the new cart on 5th Ave & 21st St yesterday, but they are in Williamsburg today. To be sure in the future, check the Rhong Tiam Pad Thai Cart twitter here or our Mobile Munchies twitter feed.
We do need to go back and try one of the premium pad thai dishes. That's part of our job, even if it can be difficult (or pricey) at times.