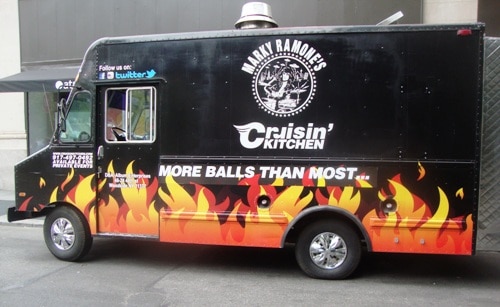 We first tried Marky Ramone's Cruisin' Kitchen two weeks ago, when we had the classic Italian meatballs with Marky's own marinara sauce.
The Asian meatballs looked really good too, so it was easy to choose what to order for our 2nd look.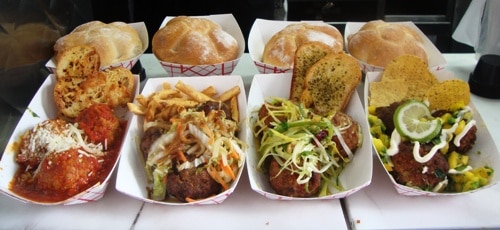 As we previously told you, they have Italian (beef), Asian (pork), American (turkey) and Mexican (chorizo) meatballs.  Since thee First Look, we have seen some rotation, with Mediterranean vegan (non-meat)balls and buffalo chicken meatballs.
Each dish has an applicable sauce and condiments for the cuisine.  An order is $7, and you can get it either "in a boat" or on a roll.
For the Asian meatballs, I went fot "in a boat".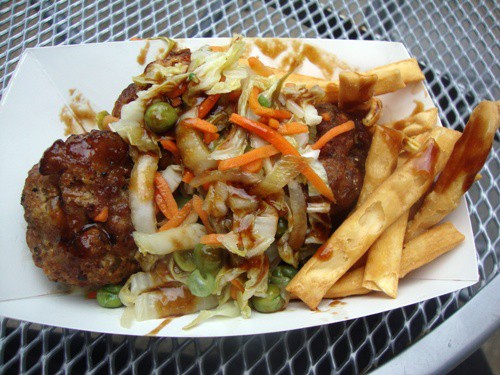 There were 3 very large meatballs topped with Napa slaw and garlic hoisin sauce.  Chinese noodles like you get with soup were on the side.
The meatballs were made from ground pork, and were cooked so the outside was nicely browned, but the inside was still moist.  There were pieces of spiced candied dried ginger in the meatballs, which were spiced well too.
The Napa slaw was made with Napa cabbage, carrots and garlic green peas, a Taiwanese dried pea that was firm, not soft.
I really liked the garlic hoisin sauce.  You can taste the Chinese 5-spice powder in the sauce, which hops up the flavor of the hoisin sauce.
About the only downside in this dish were the lackluster noodles.  I realize you need something on the side to go with the meatballs and slaw, but there has to be a better choice than these noodles.
Other than the noodles, I was very happy with this dish, and definitely want to try the other items on the menu.  Big, browned pork meatballs with an Asian sauce is a delicious lunch when done right, which this was.
The best way to find Marky Ramone's Cruisin' Kitchen is on twitter here or on our Mobile Munchies twitter feed.