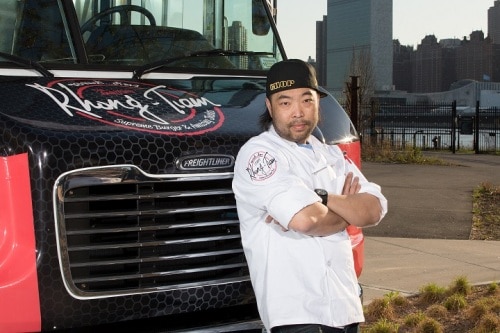 Ever tried Thai Burgers? Well, Chef/Proprietor Andy Yang of Rhong Tiam loves both driving and food, and he's brought us some Thai Burgers to NYC. This makes him a natural to start a food truck. All he needed was a new concept, which he came up with, and it sounds great!
After opening the Rhong Tiam Pad Thai Cart last summer, Yang is coming out tomorrow with the Rhong Tiam Supreme Burger Truck…and we're 3,000 miles away. Damn!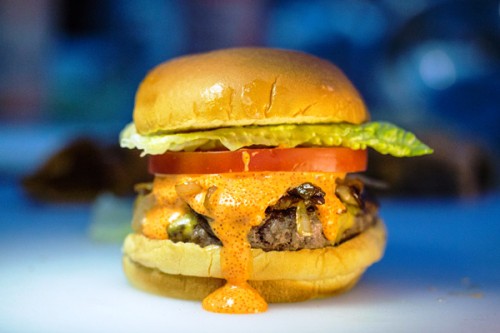 The Rhong Tiam Supreme Burger Truck, which starts rolling tomorrow, will have more than ten Southeast Asian inspired beef based offerings such as:
The Korean BBQ – Kimchi, pickled daikon, hijiki, lettuce, Thai tomago and barbecue sauce
The Yang – Caramelized mushrooms and onions, basil, chili, Sriracha aioli
The Eel Sauce – Thai tomago, seaweed, avocado, wasabi aioli and the eponymous sauce
Fish n' Chips – Wild caught salmon, kaffir lime, and double-fried hand-cut fries.
Burgers will be made from five-ounce patties made from Yang's proprietary blend of three cuts of hormone and antibiotic free USDA Prime Angus.
Burgers will be priced at $10 (with a basic option for $8). There will also be a dry-aged beef patty option.
"It's so exciting to combine my passions for cooking and driving," says Yang. "But I had to come up with the right concept, one that was different than anything else out there, that would adapt to my style of Thai cooking and that could be prepared perfectly on a truck."
In addition to the burgers, the Rhong Tiam Supreme Burger Truck will include Thai-flavored empanadas, chicken "satay dogs" with peanut sauce, and organic mixed green salads with premium add-ons.
The Rhong Tiam Supreme Burger Truck will initially be parked around the Flatiron District for lunch and dinner. You can find out exactly where on twitter here or on our  Mobile Munchies twitter feed.
We are in LA this week, so if anyone would like to do a Guest Post for NYSF on the new Rhong Tiam Supreme Burger Truck, we appreciate it. Email perry@newyorkstreetfood with a few photos and your review.