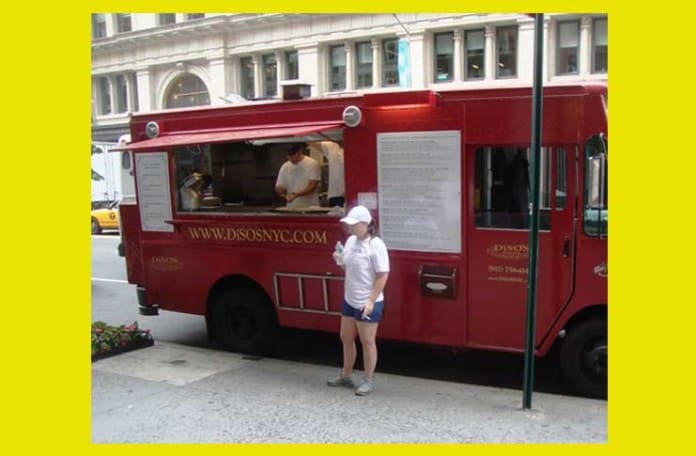 One of the better food trucks to open last summer was DiSO's Italian Sandwich Society. It's like an excellent Italian deli on wheels, and Italian heros are among our favorite types of sandwiches.
The meats and cheeses are freshly sliced to order, making service a little on the slow side, but the food is worth it!
Our previous lunches at DiSO's were heavy on Italian cold cuts, so this time we wanted to try one of the sandwiches with a chicken cutlet as the main attraction. Breaded and grilled chicken breasts are both available.
All the sandwiches on the menu are named after gangsters, and we ordered the Mickey Scars for $10.50. Half a sandwich can be had for $7.50.
All the sandwiches at DiSO's are available on focaccia or ciabatta. The focaccia is crustier and the ciabatta is softer. We went with the softer ciabatta bread.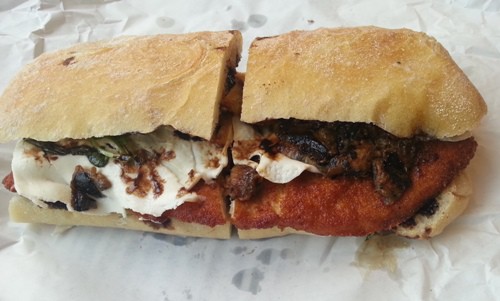 The chicken cutlet was fried to a golden brown. They didn't use Italian-seasoned bread crumbs on the chicken, so the taste was more along the lines of a schnitzel (but not pounded).
On top of the chicken cutlet was fresh mozzarella, sauteed eggplant and arugula, with each ingredient playing a significant role.
The sauteed eggplant was like a relish on top of the cutlet. The fresh mozzarella was thinly-sliced, and worlds away from the packaged mozzarella in your local supermarket.
Yet another county was heard from with the bitterness of the arugula.
All of the ingredients were very good, but we would be remiss not to single out the glazed balsamic reduction. It costs 50 cents more on a sandwich, but is well worth it.
This was a great sandwich, and for people with smaller appetites, half a sandwich might be enough for lunch.
You can find DiSO's Italian Sandwich Society on Twitter here or on the Mobile Munchies Twitter list.
As we said, service still a little slow, but you can call in your order ahead of time to 917-756-4145 and pick it up without the wait.