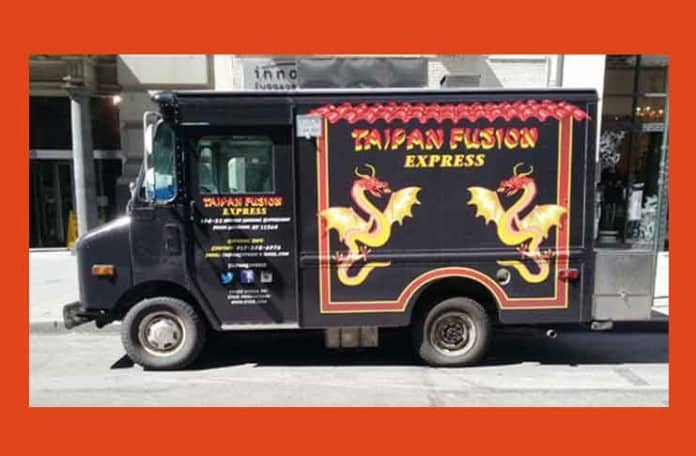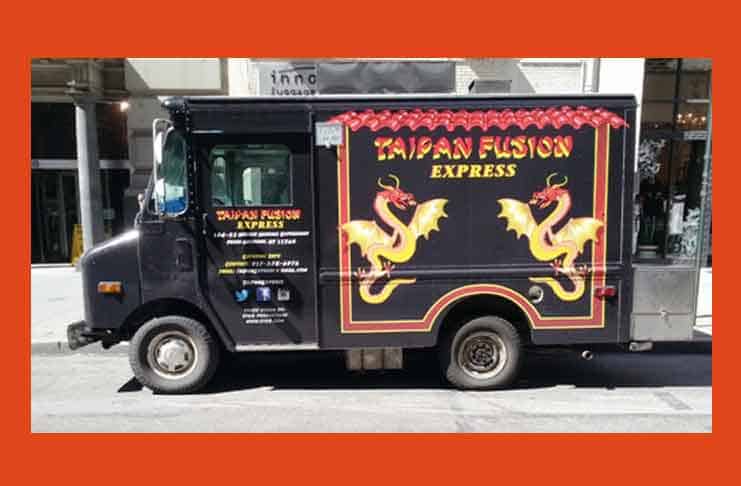 A new Chinese/Indian food truck recently hit the street called Taipan Express. There's a cool dragon on the side of the truck, but it just as easily could have been a phoenix, because this truck arose from the ashes of Fresh & Hearty. You can see it's the same truck with a new wrap, and the guy running the truck also ran the Fresh & Hearty truck.
Taipan Express already has a restaurant in Fresh Meadows, Queens (with a hookah lounge in the basement), and now they have a food truck.
Everything on the menu comes as a combo platter. You choose a spring roll or "drums of heaven", a main course, and rice or noodles.
You don't usually see fish in chili sauce on food trucks, so we ordered that as a main dish for $10. Since the truck is new, they sent out a $3 off special on twitter, so it only cost us $7.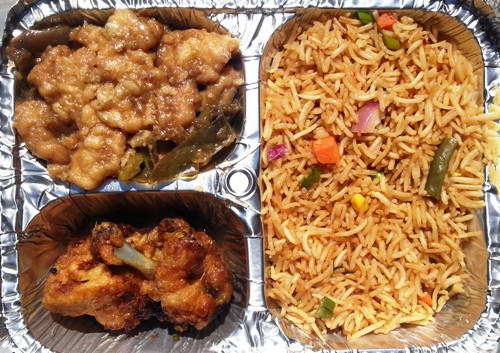 Drums of Heaven were 2 lightly breaded chicken legs. They were kind of bland, but improved with a dip in the chili sauce. Not exactly heaven, but not hell either.
The fried rice however had a funny underlying flavor to it. Were they using old oil to fry the rice? That might have been the culprit. We ate a couple of forkfuls, and that was enough for us.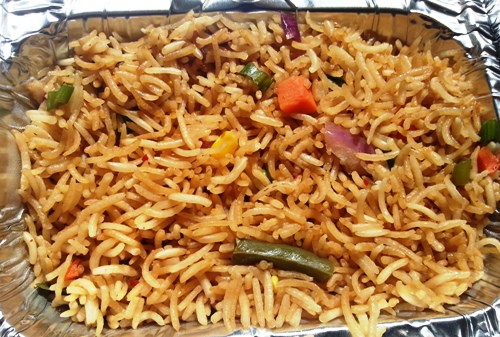 Fish in chili sauce not even close to what was expected. The fish was breaded, but kind of mashed together in chunky pieces. You could taste some fish, mostly breading, and the chili sauce was nowhere to be found. We did find strips of bell pepper and scallions mixed in, but they didn't add much flavor.
We understand new food trucks need to "work out the kinks", but we cannot recommend Taipan Express at this point. As always, we will go back for a 2nd visit in a couple of weeks, and give you our verdict at that time.
Taipan Express was discovered on 5th Ave between 18th & 19th St, but they told us they will be hitting the regular midtown food truck spots like 45th & 6th and Broadway & 56th St going forward. That should make them easy to find for a return lunch engagement.
The Taipan Express twitter is here, but their website is just a Go Daddy page for now.