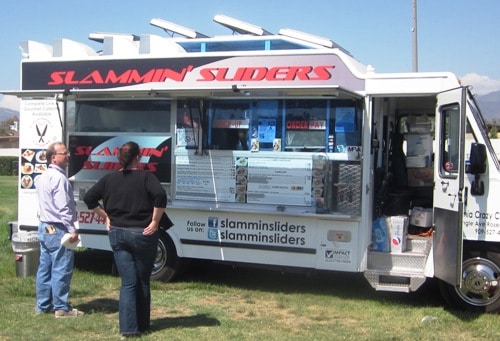 Lots of trucks sell sliders, but the menu at Slammin' Sliders looked a bit different from other food trucks.
Yes, there were beef sliders, onions, mushrooms, bacon and the like, but there were also lobster and baja shrimp sliders, as well as shrimp po' boys.
We wanted to try the baja shrimp slider, and asked for their recommendation for a second slider. They suggested wagyu beef with onion crisps, which we were told is their most popular slider.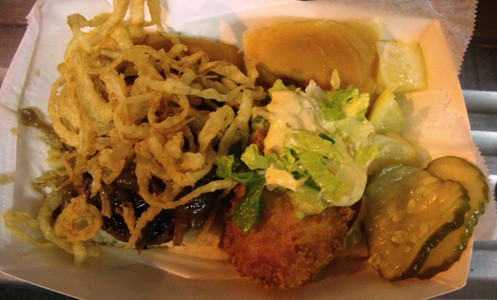 First up was the baja shrimp slider. On top of the bun was a large, breaded piece of shrimp that was topped with lettuce, tomato, guacamole and chipotle aioli. A couple of dill pickle slices were on the side.
The sliders were pretty tough to pick up because they were stacked high, but the guac, aioli and lettuce were tasty with the breaded shrimp.
The baja shrimp slider was pretty good, but we could immediately see why the wagyu beef slider is their most popular.
The slider was a cooked to medium, just as we requested, and it was really an onion lovers dream.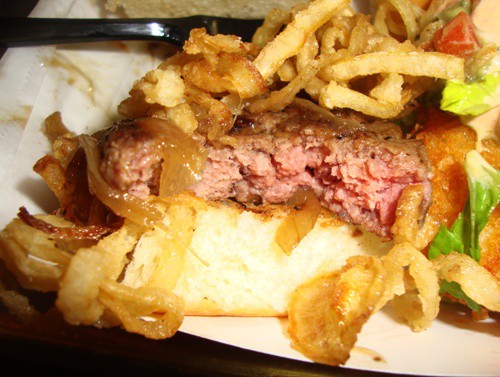 Underneath the patty were grilled, sweet caramelized onions. Lots of places use the term caramelized onions, but half the time, they really aren't caramelized. Here, the onions were caramelized as advertised.
Even better were the onion crisps on top. There was a very generous helping of light, thin onion crisps piled on top of the slider. After finishing the beef slider, there were still some onion crisps to enjoy that had fallen off. Excellent!
You can find Slammin' Sliders on twitter here and their website is here.
The prices are on the high side for sliders, but the portions are quite large. The Slammin' Sliders were halfway between the size we expect a slider to be and a full-sized burger. Two were plenty for a meal.