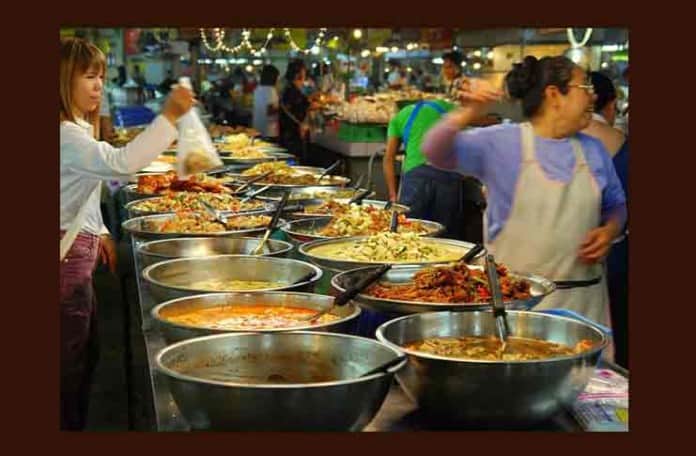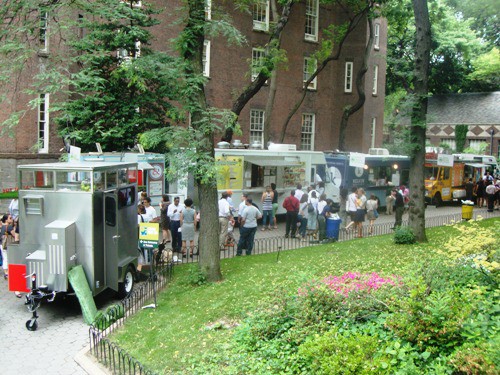 Last week we told you about the Taste of the Parks Showcase being put on by the NYC Parks Dept.  It was designed to highlight the new vendors coming to NYC Parks in the future, as well as let people know about some of the great vendors already serving in NYC Parks.
If you are a NYSF reader, you may have already read about Kelvin Natural Slush, Coolhaus, NY Dosa Cart, Eddie's Pizza, Desi Food Truck, Ladle of Love, Good To Go Organics, and even Sigmund Pretzelshop.  We've written about them all.
They were all there yesterday, and are all excellent vendors, but since we've covered them in the past, let's talk about some of the vendors we haven't written about previously.
All the vendors wer giving away samples, and most were selling full lunch items too.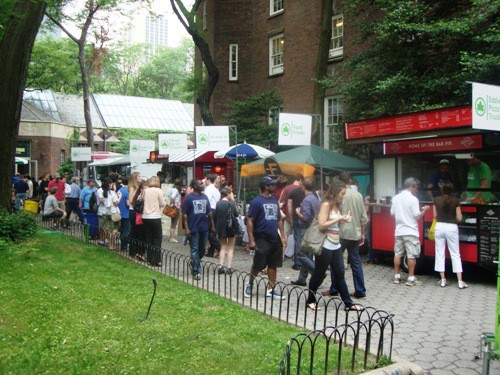 The 1st new vendor I tried was Rouge Tomate, a restaurant making it's first foray into the mobile food business.  They had an ambitious chilled white gazpacho made with cucumbers, grapes, almonds, whole yogurt and a few other things.  It was all pureed into a small, delicious taste of 3 or 4 bites.  Here's their regular Carts In The Park menu, and their Grand Opening is June 29th by Central Park at 64th St & 5th Ave.
After tasting the white gazpacho, I headed right and saw People's Choice Mobile Kitchen, which had a Caribbean menu.  They were out of their samples for the day, but the menu looked pretty good.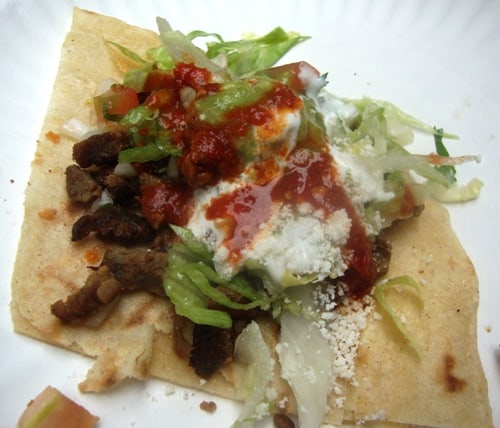 Next I went to Country Boys, who won the Vendy Cup in 2009, the first year we went to the Vendy Awards.  Technically, we have written previously about Country Boys because the 2009 Vendy Awards were the very first New York Street Food posts we wrote.  As you can see, we've come a long way since then.
As they say in sports, Country Boys has not lost a step.  I got a beef taco sample, and it was excellent.  Tasty, marinated, grilled beef with shredded lettuce, crumbled cojita cheese, and I put on some salsa picante which was muy picante.
Country Boys are at the Red Hook Ballfields in Brooklyn, and I just happened to see them on Foodography two nights ago on the Cooking Channel in a show about eating outside at parks. Must have been an omen.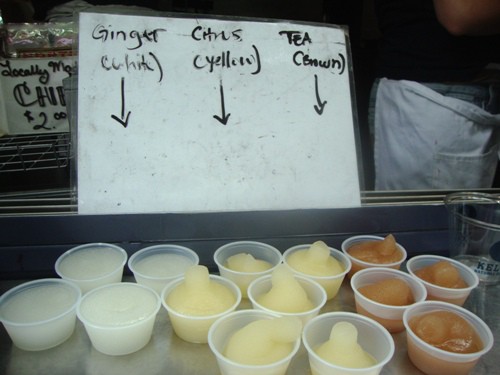 After taking a sample of Kelvin Slush's tea flavor, I walked over and said hello to Al from the Desi Food Truck, walked over to the other side of the event and said hello to Thiru from the NY Dosa Cart, and then stopped at Food Freaks, who were doing some really interesting things with grilled cheese.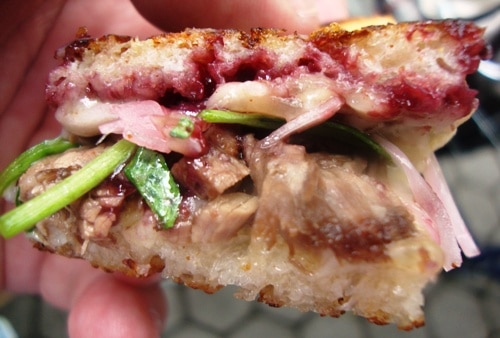 The first sample I tried was braised short ribs, gruyere, pickled red onions, watercress & blackberry jam on sourdough, which was then grilled.  Wow!  Talk about bursting with flavor.  The short ribs and gruyere were perfectly complemented by the blackberry jam, and the watercress and grilled sourdough added more taste and some texture.  This was definitely my favorite dish of the day.
After talking to the people at Food Freaks for a little bit and asking about different sandwiches, they gave me another sample to try.  This was called the Ft. Greene, and it had bacon, avocado, fontella cheese & cilantro cream on sourdough, and it was all grilled.
This was really tasty too, although it was a bit mellower than the short ribs.  The avocado and cilantro cream made for a nice, creamy filling inside the grilled sourdough, and the bacon added some needed meat.  If they left out the bacon, I'm sure vegetarians would love this sandwich – but I'm a carnivore through and through.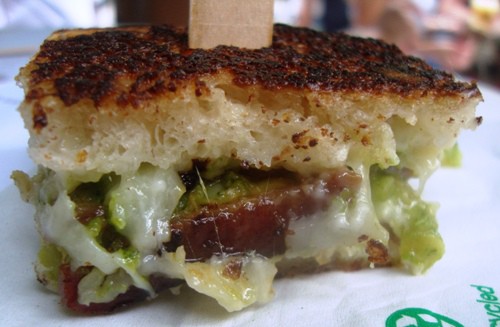 Food Freaks wll be at Ft. Greene Park in Brooklyn, and I highly recommend seeking them out.  They are putting together some wonderful grilled cheese combinations, as you can see above.
This was a great event showcasing some of the excellent vendors currently in NYC Parks, and soon to be in the parks in the near future.
NYC Parks Commissioner Adrian Benepe deserves a round of applause for significantly raising the level of food in NYC Parks.  This is great for New Yorkers, tourists, vendors and everyone else who can enjoy these delicious meals.
This was definitely not your father's hot dogs and pretzels in the park yesterday, and more importantly, in the future.