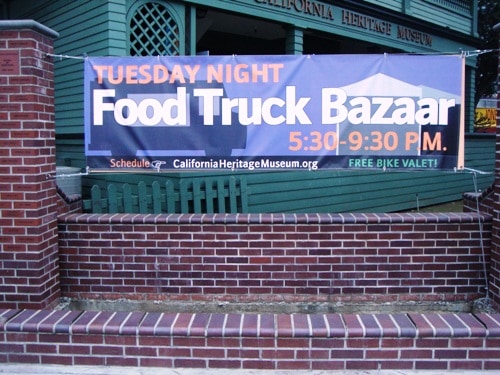 We're back in LA this week, and if it's Tuesday night, that means the Santa Monica Food Truck Bazaar. This is our 3rd visit to the Bazaar since it opened in March.
There are usually anywhere from 5-10 food trucks at the lot, giving us a chance to sample several vendors at the same time.
For the first bite of the night, we chose the Canvas Food Truck. Their motto is Local Fresh Sustainable, which is usually a good place to start.
The menu has sections for Veggie Lovers, Meat Lovers and Something Different. The Chef Style Burger looked very good. It was a little pricey at $10, but they promised to deliver a 1/2 pound burger with some great toppings.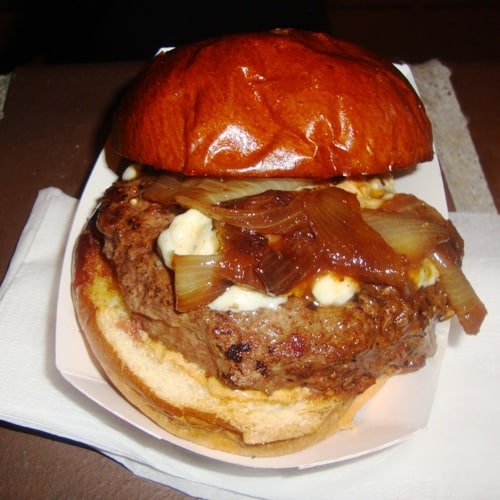 Upon ordering, they said it would take 10-12 minutes because it takes that long to cook an 8 oz. burger. That's good customer service, letting people know up front it was going to take some time to prepare their meal.
We didn't time it, but the estimate was about right, and they handed us a monster-sized burger. Half a pound was no exaggeration.
The burger was topped with grilled "drunken" onions, smoked bleu cheese and red pepper aioli.
One of our cardinal rules is we would rather have quality over quantity…but the Chef Style Burger had both! Not only was this an enormo-burger, but it was one of the tastiest burgers we've had in a while.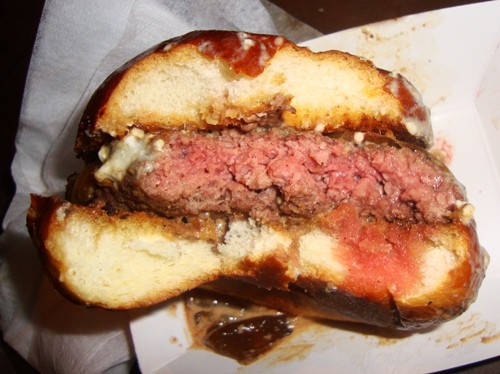 The burger was cooked to medium, and the juices were flowing freely. Each bite had juicy beef, bleu cheese, grilled onions and a soft, eggy bun. And there were a LOT of bites.
After eating this burger, it was going to be tough finding room to try some of the other trucks at the Santa Monica Bazaar, but I'm sure we'll manage.
The Canvas Food Truck can be found on twitter here, facebook is here, and their website is here.
Those Dr. Pepper Ribs looked awfully good too!