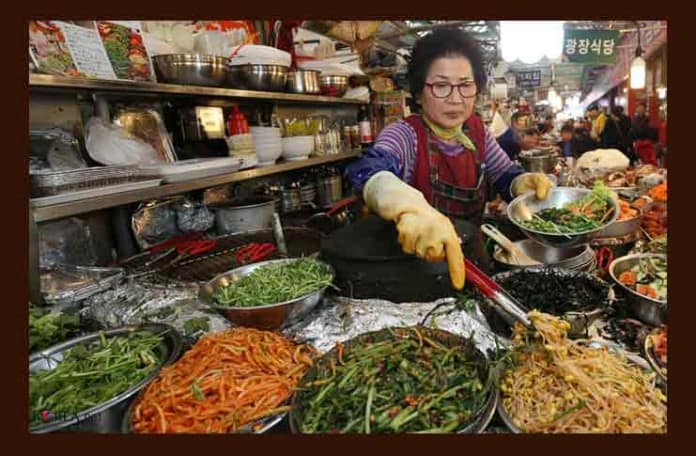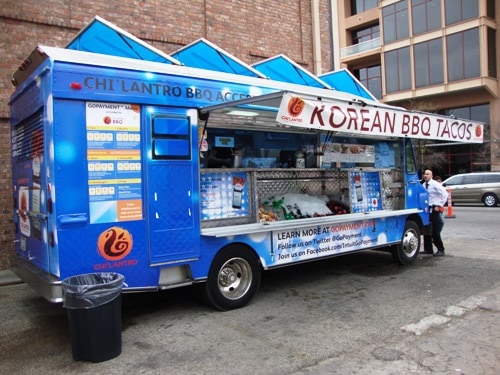 I read about Chi'Lantro BBQ in my Austin research, and there they were, right across the side street from my hotel.  They have Korean-Mexican fusion tacos, burritos, quesadillas, and even a Korean burger, but everyone says you have to get the bulgogi kimchi fries ($6), so that's exactly what I did for lunch today.
You get a choice of bulgogi: beef, chicken, pork or tofu.  I went with beef, the classic bulgogi meat.
Working from the bottom up, first there's a base of french fries, on top of which they put the meat, kimchi, a little shredded jack and cheddar cheese, onions, cilantro and sesame seeds.
This is all topped off with sriracha sauce and "Magic Spicy" sauce, which is like a creamy chili mayo.
From the first bite to the last, it was pretty spicy, and the spiciness lingered for quite a while afterwards.  The beef was nicely marinated, and the kimchi was also spicy and somewhat vinegary, as it should be.
The fries were not crisp because of everything on top of them, but they made a good base for the other ingredients.  There were enough strong flavors that it was good to have a fairly plain, starchy base on which everything else rested.
This was a pretty intense meal for 1pm in the afternoon, before I had any drinks.  As the day progresses, and you drink more and more at SXSW, this is a great dish for after you've been partying all night.
Chi'lantro BBQ's website is here, twitter is here and facebook is here.