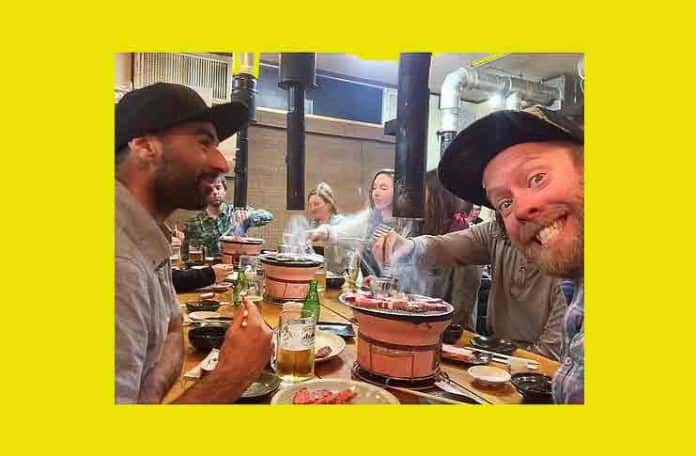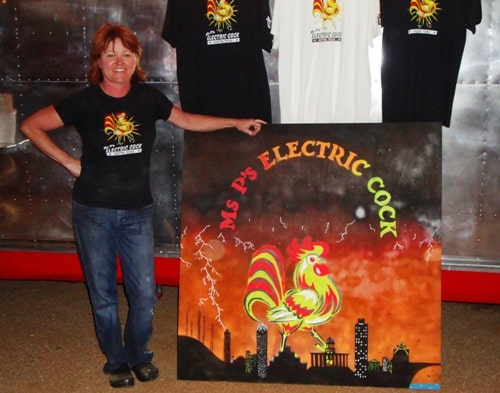 As I was walking back towards my hotel after having a Moroccan lamb sausage wrap at Cazamance, I noticed the unmistakable smell of fried chicken behind a fence.  I peered over the fence and saw a trailer in the backyard of Bar 96 at 96 Rainey Street with a crazy name – Ms P's Electric Cock.
I had just eaten the wrap, but this smelled so good I had to try it.  Maybe they would have a small portion so I could just taste a piece or two.  Don't want to be a glutton.  Luckily the wrap wasn't a huge meal.
I walked around to the front of Bar 96, went inside, and walked out to the backyard.  When I walked up to the window, I saw they had 2 pieces of fried chicken for $4.30.  OK, that would do.
After I ordered, I started talking to the guy in the trailer who was cooking (sorry, I forgot to get his name).  He told me it was only their 5th day open.
He was in the process of finishing an order of elote for someone else – grilled corn on a stick with lime-spiked aioli, cojita cheese, and shaved pasilla pepper.  It looked great, but a man can only eat so much.  I did take a picture though.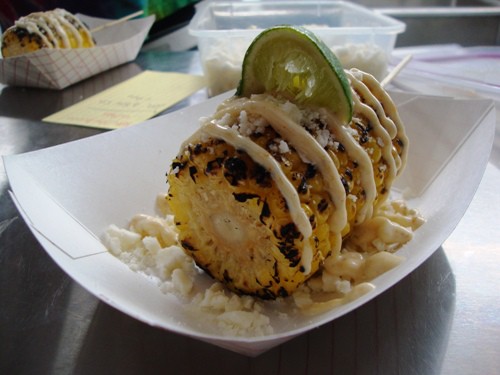 I told the chef about New York Street Food and gave him a card and sticker for the trailer.  I was telling him about some of the great street food in New York while he was frying my chicken.  He said he would give me a little mac and cheese on the house just so I could taste it.  Mac and cheese is not a light side dish, and I had just eaten, but he was being really nice, and I couldn't be rude and say no thanks.
When the meal came out, it was anything but a small taste.  There were a leg and thigh, mac and cheese, a roll and a big, fat roasted jalapeno pepper.  Wow, did this smell awesome!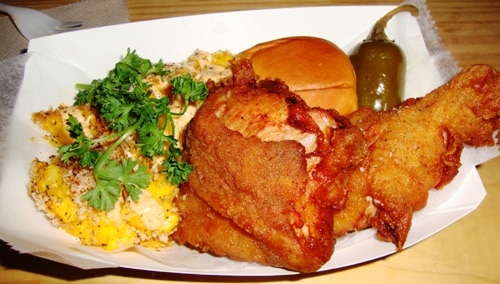 Trying the chicken first, the batter was nice and crisp with tasty seasonings in the batter.  I'm not going to try to decipher it – let's just say it was really good.  Inside the batter, the chicken was as moist and juicy as I've seen.  When frying is done right, it keeps the juices inside and the meat moist.  This was done right!  I'm not usually one for legs and thighs, but when it's this good, no problem.
The mac and cheese was amazing too.  They batter and fry it, and serve it with aioli infused with truffle oil!  It was as good as it sounds.  Mac and cheese always has a creamy richness, but the truffle oil gave it a depth of flavor you don't usually get with mac and cheese.
To finish off the meal, there was a really soft roll and a really big jalapeno pepper.  I know they do things big in Texas, and this pepper was no exception.
After the meal, Ms P was back from wherever she went for a few minutes, and I told her how much I enjoyed the meal.  We talked for a bit, and it came out that her first name is Perry too, and it's spelled the same way!  I've met a few women with the same name as me, but it was never spelled the same way too.
Perry worked in technology for many years, and wanted to do something different with her life.  Well, this certainly qualifies.  It must be quite satisfying serving people such delicious food.
There were a few other things on the menu like Blue Hen Cole Slaw (made with blue cheese) and Dirty Black Eyed Peas, but one other item really caught my eye.
The Cock's Ben-e-dict, which is coming soon (no pun intended), and is a waffle topped with fried chicken, fried green tomato, and a poached egg, drizzled with a maple syrup hollandaise!  Add a Bloody Mary (or two) for a perfect weekend brunch.
Ms P's website is here, facebook is here, and twitter is here.