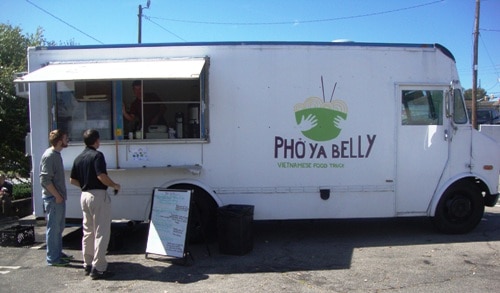 Ever had Vietnamese Spring Rolls in Asheville? Well, there is something Asheville, NC has that NYC doesn't have (besides mountains) – a Vietnamese food truck. NYC has plenty of Korean, Thai, Chinese and Indian food trucks, but not Vietnamese. Oh yeah, there is the Banh Mi Cart in the Financial District, but no Vietnamese food trucks.
Pho Ya Belly has pho, banh mi, bun and spring rolls on their menu, with various options for each.
Usually if a vendor or restaurant has the name of a dish in their name, we order that dish, but it was too warm and sunny for pho. We ordered traditional Vietnamese spring rolls (2 for $4) and banh mi ($6) instead.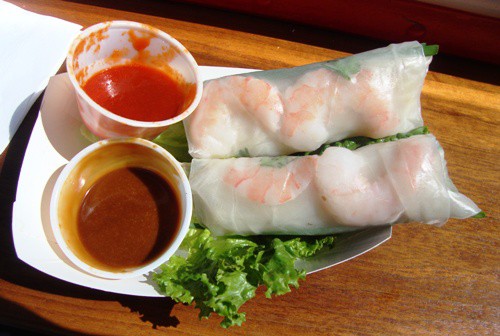 The spring rolls had a choice of several sauces, so we asked for peanut and chili & garlic sauce. Inside the spring rolls were large shrimp, bean sprouts, and some herbs, one of which was chives.
The spring rolls were cool and refreshing on a warm day. The peanut sauce went great with these rolls, and the chili  & garlic sauce was good for some heat every couple of bites. In fact, two bites with peanut sauce for every bite with chili sauce was about the right combination for me.
We got the pork banh mi. Tofu and pork & shrimp were also available.
On top of pickled veggies like carrots and bean sprouts, plus cilantro, were thin slices of pork, along the lines of deli meat. There were also a few large slices of pate, which we really enjoy. The Banh Mi Cart in NYC uses ground pork instead of pate, which is not as good.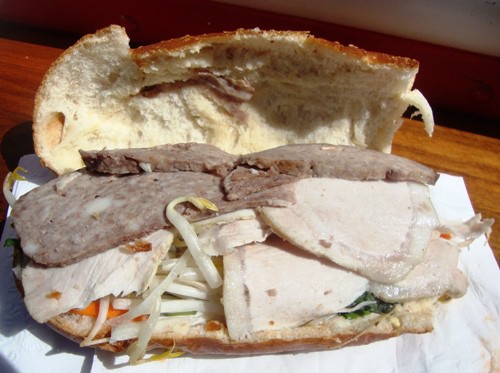 The bread was nice and crunchy, as were the veggies, and there was mayo on the roll too. We're not positive, but there seemed to be a little fish sauce mixed in with the mayo.
Pho Ya Belly was a tasty, enjoyable lunch which we would gladly have again. Unfortunately, we'll have to wait for our next trip here to try the pho. But that just gives us something to look forward to on our next trip here.
You can find them on twitter here, facebook is here, and their website is here.