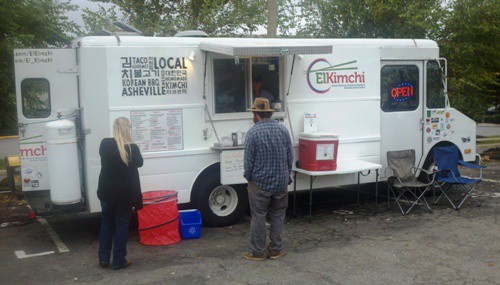 So, we're in Asheville, NC visiting family for a few days, which gave us an opportunity to check out the food truck scene here.
Every locale has their own push and pull between brick-and-mortar, food trucks, and local government. In NYC, it's basically a free-for-all.
In Asheville, food trucks are confined to one parking lot in town (away from the restaurants), but there can be anywhere from 2-4 trucks in the lot, and they rotate daily. The first food truck we tried was El Kimchi Korean BBQ.
The menu was truly a fusion of Korean and Mexican, with tacos, burritos, tortas and quesadillas, as well as bibimbap and rice bowls. We got 3 tacos for $5 (yes, we're not in New York anymore). We also got the Daily Special, goon mandu, which was an order of 6 dumplings for $5.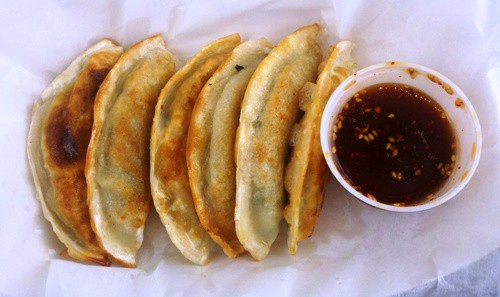 The goon mandu were pan-fried dumplings, which came out piping hot. Inside the dumplings was a combination of pork, tofu and veggies that was more along the veggie line. The filling was finely minced, but the pork wasn't readily apparent to our taste.
The goon mandu came with a soy & sesame dipping sauce that we liked. It wasn't a strong dipping sauce, but added a nice flavor to the dumplings.
There were 5 choices for taco fillings, and we got spicy pork, beef bulgogi and chicken teriyaki.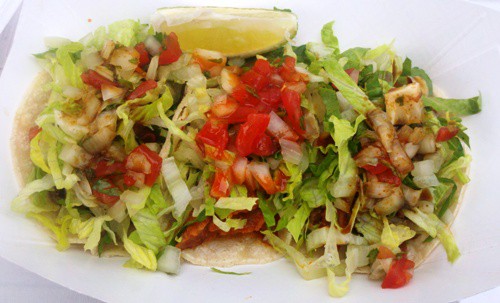 The tacos came with lots of shredded lettuce, pico de gallo, homemade kimchi, and a lime wedge, plus the meats underneath.
These were tasty Korean tacos. The meats were very flavorful, from the spiciness of the pork, to the marinated beef bulgogi and the teriyaki chicken.
You can't see the the meats under all the lettuce, but they came through loud and clear.
About the only downside was the single corn tortilla. There was so much stuffed into the taco, you really needed two tortillas to handle it all comfortably.
Overall, this was an enjoyable lunch of Korean tacos and dumplings. The proprietor told us there were currently no Korean restaurants in Asheville, but we would beg to differ.
El Kimchi Korean BBQ may not be a brick-and-mortar restaurant, but it is certainly an excellent place to get Korean food in Asheville.
You can find the El Kimchi facebook here and twitter here.