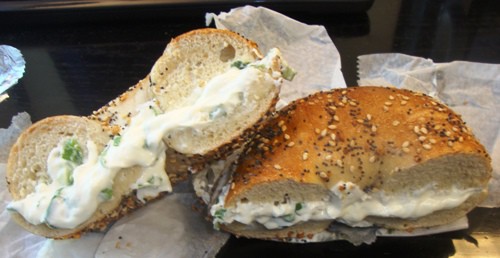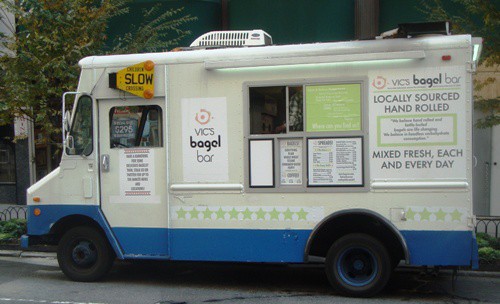 Last week we heard about a new food truck called Vic's Bagel Bar.  Over the past week, we've stopped by twice for a NYSF First Look, once for breakfast and once for lunch.
At the truck, I found out that Vic's Bagels has a store at 544 Third Ave (36th St), where the cream cheeses are made up in the morning and the bagels are cooked.  You didn't really think they could cook bagels on the truck, did you?
As you can see, they converted an old Mister Softee truck into Vic's Bagel Bar.
The menu had some interesting items, such as the Tokyo Tel Aviv Express, Backyard BBQ and The Vermonter.  When I went for lunch, it was only their 2nd day out, and none of these items were available.
Today when I stopped by for breakfast, they were available, but I'm not about to have wasabi or bbq for breakfast.  Guess I could have had the Vermonter, but I wanted to try the more traditional stuff before trying the funkier stuff.
For lunch last week, I decided to get The Traditionalist, which had cream cheese, red onions, tomatoes, chopped lox and scallions for $7.  If you're trying a bagel place for the first time, lox and cream cheese is a good place to start.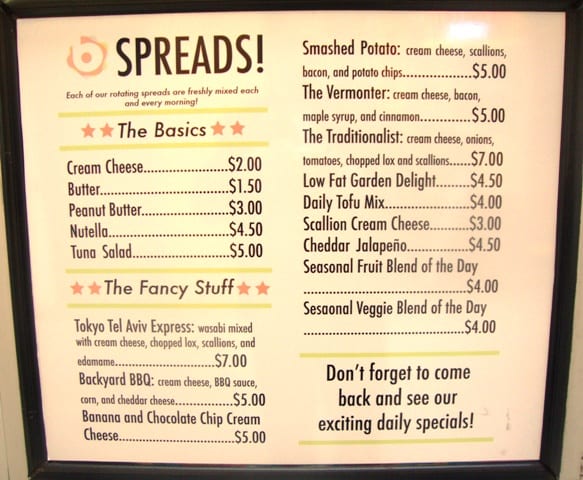 I'm not a big fan of tomatoes, so I asked them to leave off the tomatoes.  Unfortunately, she said the cream cheese was made up that morning at the store, and the tomatoes were already included in the mix.  I got it anyway.
After a few minutes, I was handed the bagel wrapped in paper, and I asked for a bag – but they didn't have any bags.  It was only their 2nd day, and things were still being worked out.
When I got back to the office, I unwrapped the bagel, and it looked pretty good.  There are several choices of bagel types, and I got a multi-grain bagel.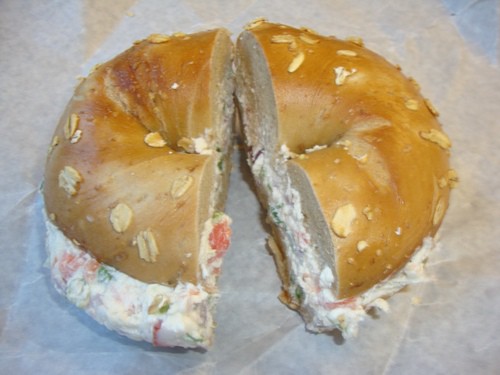 There were a lot of ingredients in the cream cheese – lox, red onions, scallions and tomatoes – and it was thick and creamy.  The bagel was decent, but it was cold, and would have been much better toasted.
That was my fault though because I forgot to ask for it toasted.  (When I went back for breakfast today, the guy asked me if I wanted it toasted.  Yes I do, thank you for asking.)
The main ingredients of the bagel and cream cheese were good, and there was plenty of lox and scallions, which is why I got it in the first place.
I realize lox is expensive, but for $7, you should get slices of lox on the bagel, not chunks mixed into the cream cheese.
There's a really good bagel store near where I live, and it costs $6.25 for sliced lox and cream cheese on a bagel, and lox cream cheese spread on a bagel only costs $3.25.  Shouldn't a food truck be cheaper than a store?
Since it was only their second day out, I went back today for breakfast, about a week later.  I got a toasted everything bagel with scallion cream cheese.  Thankfully, they didn't charge extra for toasting, because that really pisses me off.  Good business decision.
The menu was a little confusing because it said each bagel was $1, and the scallion cream cheese was $3, so I expected it to be $4, but I was charged $3.  Was the bagel price included in the spread price or did he make a mistake?
I hope it was the former, because $4 for a bagel with scallion cream cheese is too much.  Food trucks are supposed to be cheaper than brick and mortar, not more expensive.  $3 is about right for a quality bagel and scallion cream cheese.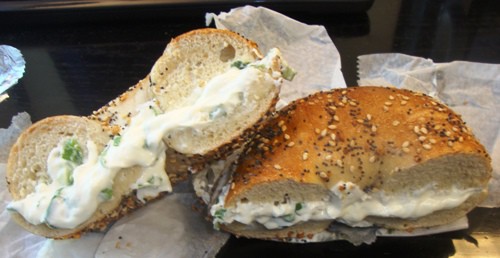 By the time I got to the office, the toasting had made the cream cheese nice and soft and yes, creamy.  It was a little messier this way, but very tasty.
There were plenty of scallions in the cream cheese, and plenty of toppings on the everything bagel.  The bagel was a little toasted, but still soft and easy to eat.
We'll see if Vic's Bagel Bar catches on.  Bagels and cream cheese aren't exactly hard to find in New York,but the quality of the bagels and cream cheese is good.
There are some interesting twists on the menu.  Next time I'll have to try one of the non-traditional items, such as the Tokyo Tel Aviv Express or the Vermonter.  If you have tried Vic's Bagel Bar, let us know what you thought.
You can follow Vic's Bagel Bar on twitter here or on our Mobile Munchies twitter feed.