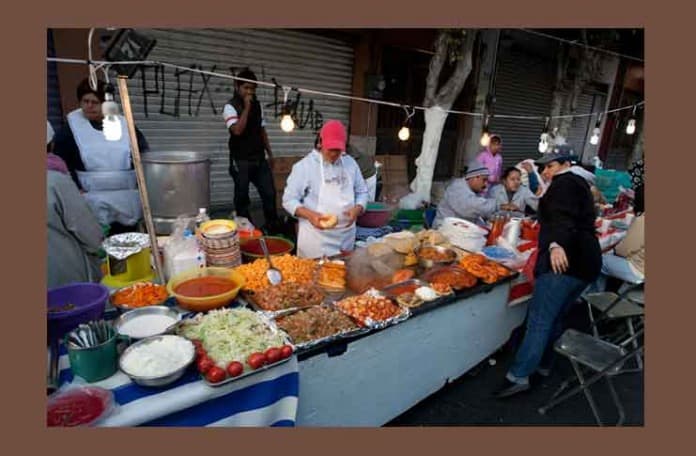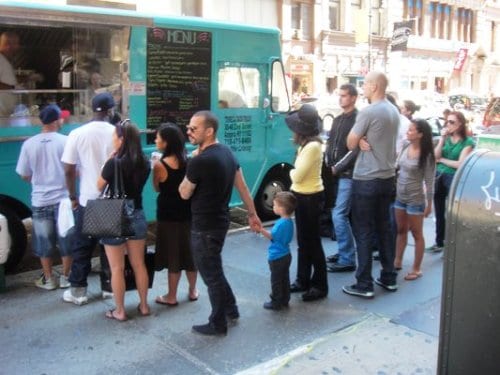 A NYSF reader tipped us off to a taco truck that's been seen around Soho lately – the Tribeca Taco Truck (natch).  From the picture above, it looks like they were around a bit during the summer, but we didn't cross their path.
Nicole V. ran across them last weekend and really loved their tacos, then breathlessly emailed us to find out more about this truck, including its name, which she didn't catch – but she did get a picture of the taco.
Click through for more info on the Tribeca Taco Truck, including Nicole's taco photo and how to find them.
Nicole's call for help:
HELP!!!! Misssing taco truck
Parked on Bway between prince
and spring
dec 31st late day.
Big Faded Aqua truck with hand lettered menu on the side panel in lists:
Tacos, tortas, buritos, etc
Chorizo, pollo asado, carne asada, carne molida, carne enchilada, carnitas etc, even had some kind of soho combination of chorizo and something, I remember wishing it were chorizo and chicken..
Sauces, crema, avocate+crema, peruvian salsa verde, barbecued pineapple etc
Extras, cilantro lettuce tomato radish etc
Older gent running the show, most things sold out, waiting for his wife to come and restock.
The peruvian salsa verde is to die for and the big give away: who else has it???
I was so hungry I forgot to take a pix of the truck or ask the guy abt what days he is around. (the line was huge)
I went back three days in a row and it was not there.
Jonesing for it!! Pls help Perry!!!
Aaayyyyyayyyyay!
nicole
———————–

Well, Nicole emailed me tonight to say she found them on Yelp.  I did a little more legwork and found their twitter account here.
Hopefully I'll be able to find them this weekend.  Thanks for the tip Nicole.  I can't wait to try them.