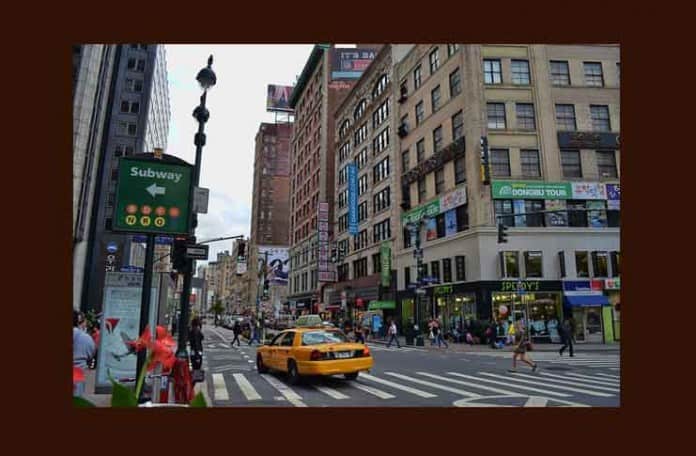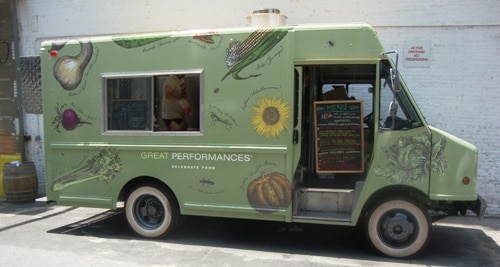 UPDATE 8/3/11 – The Katchkie Truck will be serving lunch Mon-Fri from 11:30 – 3:30 beginning next Monday, August 8th. They will still be serving dinner on Tuesdays from 5:30 – 7:30pm at the Hudson Square Music and Wine Fest through August 16th.
Original Post
Last week I was walking on Varick St when I heard some music coming from Spring St.  I rounded the corner towards Hudson St and saw a parking lot behind City Winery with a bunch of people, live Brazilian music,  a cigar stand, drinks being served, and the Katchkie Truck serving food such as burgers and bbq pulled pork.  What a great New York scene!
I only had a few minutes and didn't have a chance to try their food last week, but I asked the guy in the truck a few questions.  He said the truck is affiliated with Great Performances, a NYC catering company and Katchkie Farms, an organic farm in upstate New York.
He didn't know about their long-term plans, but said for now, they are serving Mondays and Tuesdays in this lot, which is on Spring St between Varick and Hudson. See Update above.
For the rest of the summer, City Winery has live music behind the venue on Tuesdays from 5:30-7:30pm with drinks, cigars and the Katchkie Truck.  It looks like a fun way to spend Happy Hour after work on Tuesdays.
Of course, I was more interested in the food truck than anything else, so I went back yesterday and got a NYSF First Look at the Katchkie Truck…and it was a good one.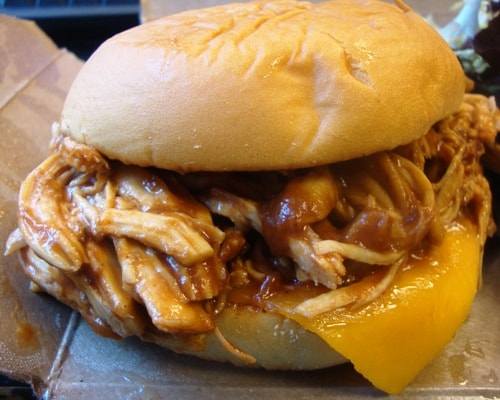 The Katchkie truck doesn't have a big menu, but this is definitely a situation of quality over quantity.  They have a veggie burger, a regular burger and I got a pulled bbq chicken sandwich.  Last week they had bbq pork, this week it was bbq chicken. You can see their full menu here.
When you buy lunch from Katchkie Truck, you buy a meal.  No a la carte here.  Every lunch is $10, but it comes with one of the aforementioned sandwiches, a side dish and a fresh drink.  Mine was strawberry lemonade.
I don't want to sound too gaga, but this was the best pulled bbq chicken sandwich I've had in a long time!  There was a ton of meat on it, it was all tender white meat, and the bbq sauce was very tasty.
The bbq sauce had a little zing to it, but was not too spicy or vinegary, and it wasn't too sweet either.  For bbq sauce, it was on the lighter side, and it didn't bury the meat.  They even put a slice of New York State cheddar cheese on the bottom of the bun.  This was a great sandwich!
The bun was a Martin's potato roll, which stood up well to the onslaught of bbq chicken.  I brought this sandwich back to my office on the subway, and it held up just fine.  The bottom of the roll didn't get soggy at all.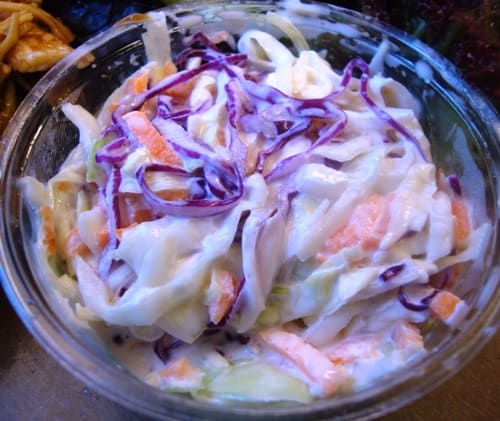 For side dishes, there were a number of choices – potato salad with eggs & dill, cole slaw with buttermilk dressing, or cucumber & tomato salad.  I opted for the cole slaw, which was a little richer in taste from the buttermilk, but was still fairly light.
The strawberry lemonade was perfect on this hot day.  It wasn't as tart as regular lemonade, with the strawberry flavor smoothing out the tartness.
Lunch from the Katchkie Truck was one of the best, freshest lunches I've had in a while.  Now I can't wait to try one of their burgers!
You can follow the Katchkie Truck on twitter here, and we have already added them to our Mobile Munchies twitter feed and directory.
They are only here on Monday & Tuesday, but it's worth making the trip down to Soho.  Maybe I'll even get  there for dinner tonight.  It's only a couple of blocks out of my way.