About 2 weeks ago, we heard about a new raw vegan food truck called The Squeeze.  They were around for a day or two, then disappeared.  On Friday, we ran across them on Union Square and asked where they had been.
It was the same story we've been hearing a lot lately – bureaucracy and permit issues.  NYC doesn't make it easy for street vendors.  The person in the truck told me things were now resolved, and they would be in the Union Square area regularly going forward.
The Squeeze is New York's first raw vegan truck.  It was founded by Karliin Brooks, who graduated from N.Y.U. with a degree in Nutrition and Broadcast Journalism and then attended the The Natural Gourmet Institute.
I wasn't sure what to order, but they were giving out free samples, so I tried a couple of things: first a taste of coconut granola, then a sample of their soup of the day: red pepper, avocado, cilantro and cumin.  This was a tasty cold soup, perfect for a summer day.  I didn't order the soup, but it would have been a good option.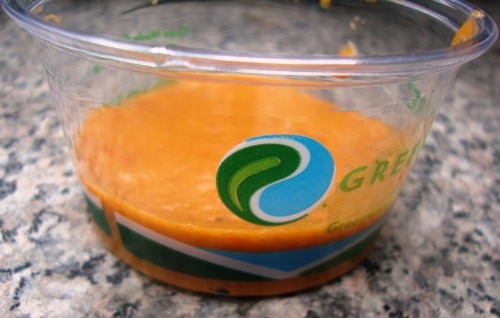 What I did order was a vegan hot dog, which comes on a gluten-free bun.  You can get either sauerkraut or kimchi topping, and it costs $6.99.  I went for the kimchi topping.
Before I even took a bite, the bun was falling apart.  The hot dog kept rolling out of the bun, and I kept rolling it back into the bun to try to take a photo.  Picking it up to eat with the bun was even more difficult.
Between the kimchi and hot dog, it was moderately spicy.  I'm not a vegan or a vegetarian, so it's difficult for me to compare this hot dog to another vegan hot dog, and I'm not sure if it's fair to compare a meat hot dog with a vegan hot dog.  They are two totally different animals (so to speak).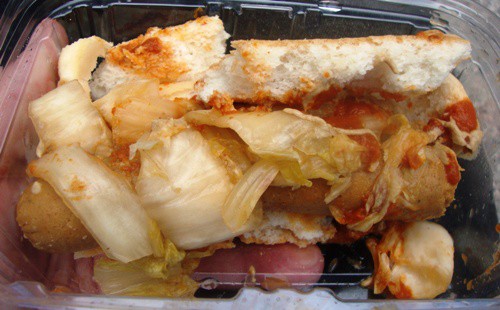 One dish that looked interesting was the moc n cheese, which is made with cashew "cheese".  There are also salads, bruschetta, fresh pressed juices, shakes and desserts.
I'm not at all familiar with raw vegan food – it's not exactly my cup of tea.  But that's what's so great about New York, there's something for everyone.  The Squeeze may not be my type of food, but there are plenty of vegans in New York, and they will determine the ultimate success of The Squeeze, not the review of a knucklehead that doesn't understand the cuisine.
You can check out the full menu on their website here.  You can also follow them on twitter here (basically unused).  Now that their permit issues are fixed, they should be on the street regularly going forward.  In fact, we saw them on Union Square West yesterday.