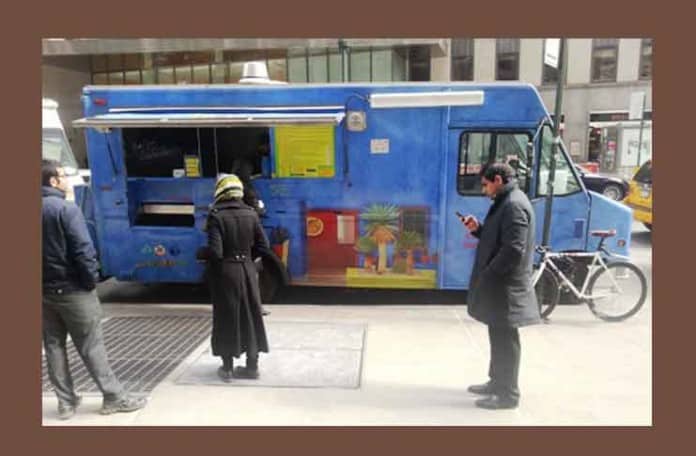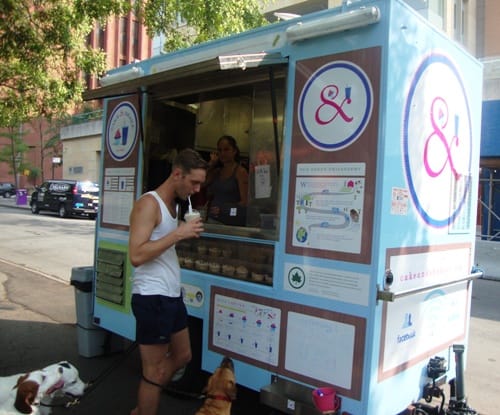 It's a beautiful, sunny day to enjoy some great New York Street Food from the vendors on the right and the trucks below.
Even food truck lots can have trouble.  The new Long Island City lot is closed due to a TV shoot blocking the entrance.  Eddie's Pizza parked nearby, but Cupcake Stop relocated to Brooklyn.
As always, make sure to check the Mobile Munchies twitter feed before heading out, in case anyone had to move at the last minute.
LICfoodtruckLOT So sorry! The lot is closed! The Blue Bloods film shoot is blocking our entrance. The street filming will end today and access to the Food Truck Lot will resume tomorrow! (August 3rd.)
Frying_Dutchmen We are back in the financial district today open from 11:30 to 3pm. Due to police parking we will not be able to vend on water today, we are very sorry and will def be back tomorrow
CrispOnWheels We'll be on 49th street and 6th avenue today!
EddiesPizzaNY Our truck is right in front of citibank building in long island city. Cart is at highline
KimchiTruck Morning! Lunch in Flatiron 24th & 5th/Broadway 11:30am-3pm. See you there.
CupcakeStop BROOKLYN HERE WE COME!! Today we will be located on Jay St. between Fulton St and Livingston St.
UncleGussys Morning my people 🙂 Special for the day MOMS famous pork chops
cupcakecrewnyc Morning FiDi! At our usual Tuesday spot Hanover Square between Water Street & Pearl Street! Stop by to check out our flavors!
waffletruck Yummers! De Wafel Truck is on 52nd st btwn 3rd+Lex. Til 4:26. De Cartz; De Goesting on Whitehall btwn Water st+Pearl st. in De FiDi til 5:18. De Bierbeek is @ Columbus Cir. front of TimeWarner til 10:10. Annnd De Central Park Cartz; De Vedette @ entrance to zoo at 5th Ave.+60th st til 8:02. De Kotmadam on Great Lawn @ turtle pond til 8:08. FREE DINGES for telling us how long Belgium been without a government?
SweeteryNYC Gd morning midtown. Sweetery will b on 50th St btw 6/7th Av from 8:30 til 4p, we look forward 2 seeing our grt midtown customers later today
ETRAVAGANZA Hola.good morning!!! Just got our chorizo fresco from my "Papa the butcher,"get yours ,
LukesLobsterNY We're out today, in full force! Lunch at Madison Square Park on 27th st between Madison and 5th. Tell all your friends.
gcnyc1 Gorilla Cheese NYC High Line Tuesday noon-10pm. Come by for lunch. Stay for dinner and drinks! Genoa salami and provolone on french. that's some good stuff.