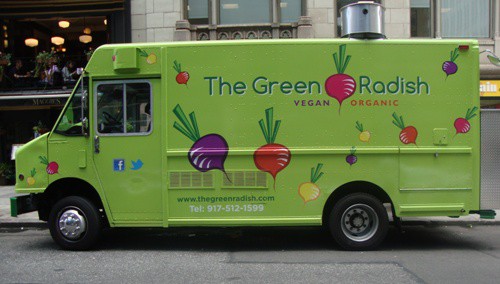 Last month a new food truck debuted at the AfroPunk Festival in Brooklyn called the Green Radish. We haven't been able to catch up to it until recently, but finally got there right before our trip to LA.
The truck is vegan and the menu is interesting, with portobello mushroom burgers, a "no lobster" roll, chickpea burgers, black bean burgers, noodle dishes and more.
For our first visit, we ordered the chickpea burgers for $10, and a chocolate chunk walnut cookie for $3 for dessert.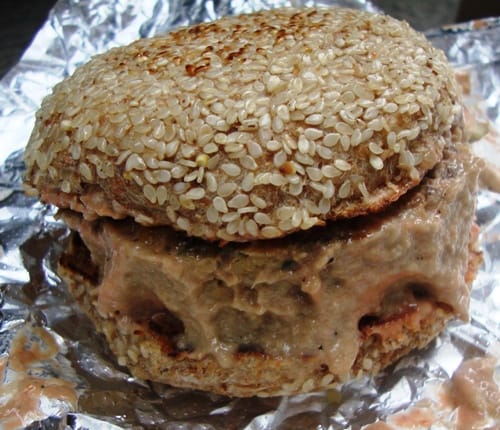 We spoke to the owner, James Rafferty, for a few minutes. He was a private chef for 10 years, then decided to open a high-quality vegan food truck. Based on our first lunch, he has succeeded.
The chickpea burger was a large, thick burger with a bunch of ingredients visible to the naked eye.
We saw a few whole chickpeas, red bell peppers, red onions, and a lot of herbs. The burger was grilled until it was browned on the outside.
The burger was served on a gluten free sesame seed bun, with pickles and tomato. We've never seen so many sesame seeds on the top of a bun. In case you were wondering, that's a good thing.
There was something called Green Radish dressing on the sandwich, but to us it seemed like there were 2 different sauces. One was like a cross between French and Thousand Island dressing, and one was lemony and slightly acidic. The dressings were good condiments for the chickpea burger.
About halfway in, a small amount of spiciness crept in, and the chickpea burgers also started breaking apart in the bun. We were able to corral the pieces within the bun, but had to be careful not to let any fall out.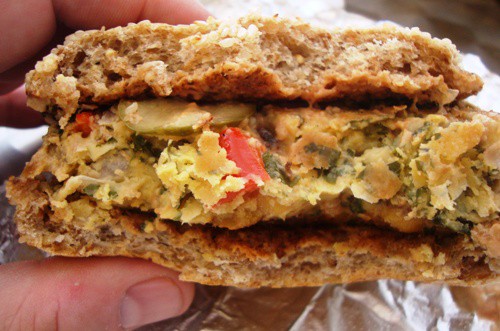 After finishing the chickpea burgers, we took out the chocolate chunk walnut cookie. This was a substantial cookie, both in size and taste.
Every single bite had the tastes of chocolate and walnuts. The cookie was soft, like we prefer, but again, the cookie started falling apart as we picked it up to eat.
They also had freshly baked pumpkin spice cookies that day, which looked pretty good.
This was a filling, satisfying lunch, and we're not even going to qualify it with "for vegan food".
It used to be that vegan food was bland and boring, but chefs like Adam Sobel of the Cinnamon Snail and James Rafferty of the Green Radish Truck are making the distinction between vegan food and other food obsolete.
Looking at the massive lines at the Cinnamon Snail, there's definitely room for another high-quality vegan food truck in NYC. The food at the Green Radish Truck is not as fiery as the Cinnamon Snail, but we walked away from lunch happy, which is all that matters.
The Green Radish Truck can be found on Twitter here or on our Mobile Munchies twitter feed. You can check out their website here. Take a look at this chickpea burger…