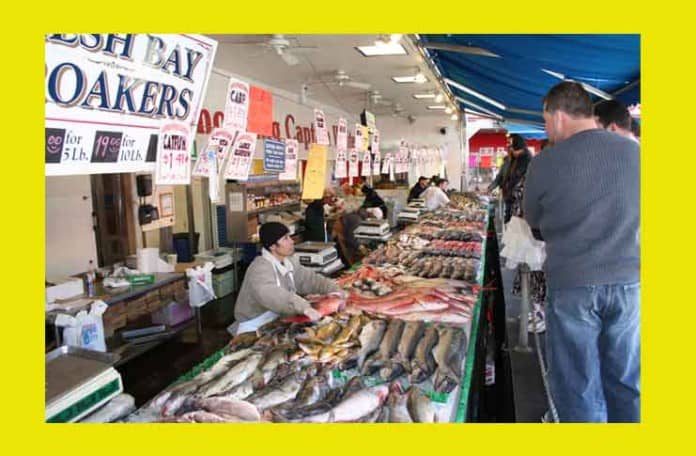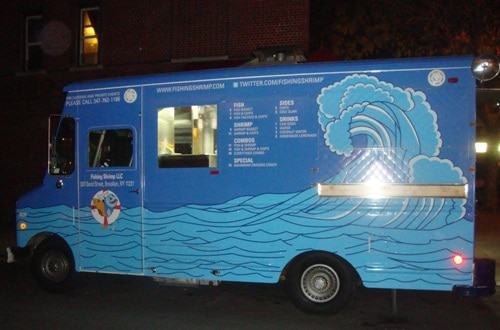 After hearing about the Fishing Shrimp truck from James of Gorilla Cheese, I headed out last night to the middle of Brooklyn on the Q train to check 'em out.  They are by the Newkirk Plaza stop a few days a week, and by Courtelyou Road a few days a week, both for dinner.
Check their twitter here for exact locations, and they are on our Mobile Munchies twitter feed as well.
Fish and shrimp are among my favorite foods, especially breaded and fried.  Looks like the Fishing Shrimp truck found a good niche for a new food truck.
They have only been operating for about 2 weeks, testing out the menu, and working out the kinks in their operation.  James originally thought the truck's name was Odeis, but that's the name of the main chef and one of the owners.
The menu is fried fish, fried shrimp, chips and all combinations thereof.  They also have Bahamian cracked conch, which I got to try a couple of pieces of.  With this being seafood, the prices range from $6 up to $15, but it's dinner not lunch, so that's fine.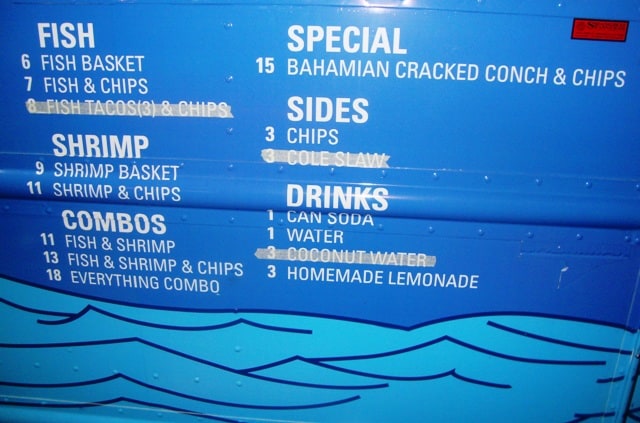 To get an assortment, I ordered fish & shrimp & chips for $13.  The fish is whiting, of which I got 4 pieces, and there were 6 shrimp.  For condiments, they have tartar sauce, ketchup, hot sauce and a spicy vinegar sauce, which I didn't try, but it looked homemade.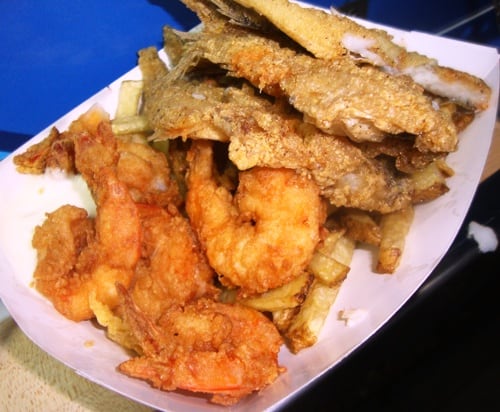 I started with the fish, which was piping hot right out of the fryer.  The crust was light and crispy and not overly greasy, although there was some oil with it coming right out of a deep fryer.
The fish were thin fillets which were pretty tasty, although the breading didn't stick to the bottom of the fish, where the skin was still on.  I like hot sauce on this kind of fish fillet, and it added an extra zing.
Next I tried the shrimp, which were plump and juicy and utterly delicious.  The shrimp batter was a little softer and eggier than the fish breading, which was crisper.  And six shrimp were a nice amount for a combo platter.  My preference with breaded shrimp is tartar sauce, and theirs was good.
Underneath the fish and shrimp were the chips.  The fries still had some skin on them, which I like, but they were limp.  The chips need to be cooked longer so they aren't so soft.
When I was eating dinner, I saw Odeis mixing up a batch of conch, and asked if I could try a piece.  He put a couple out for me after they were cooked.  Odeis told me his grandmother was Bahamian, and that she usually made the conch batter for him, but she was currently in Jamaica.  Odeis had her recipe, but not her years of experience making it.
The batter puffed up nicely, but the first piece didn't have much spice.  Odeis asked me if it needed anything, and I said maybe some more black pepper.
But it turned out that he just hadn't mixed up the batter enough, because the second piece had a lot more pepper.  Now that was more like it!  Odeis said he would make sure the batter was mixed more thoroughly in the future.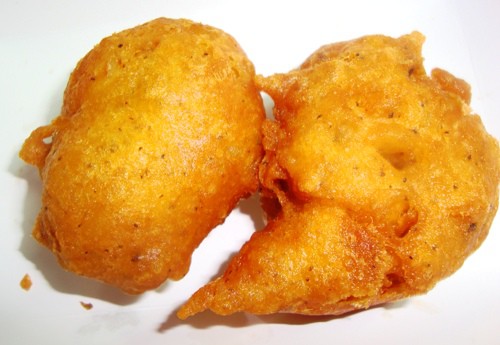 My dinner from the Fishing Shrimp truck was a good first visit.  I know they have only been open a short time, and some things are still being worked out.
In my opinion, the fish was good, the shrimp was excellent, but the chips need to be crispier.  The conch was also good, but I still want to try Grandma's version, which may very well be great.  There's usually nothing better than Grandma's cooking!
The Fishing Shrimp truck will be in Ditmas Park, Brooklyn for the near future, but they hope to come into Manhattan when they feel ready.  Odeis knows midtown and FiDi can be killer if they aren't properly prepared, so when they do come into Manhattan, they will probably start in less dense areas.  Smart move if you ask me.